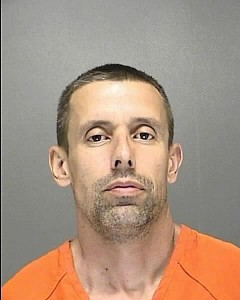 Deland, Florida — On Sunday February 9, 2014 at approximately 9:00 a.m., Volusia County dispatch received a 911 call from a business owner stating he was holding a burglary suspect at gunpoint.
At 9:14 a.m. Deputy Wagers arrived on the scene to find the owner of West Crane Services holding suspect Dale Stewart, 43, at gunpoint at which time Deputy Wagers secured Stewart.
The business owner told Deputy Wagers he heard a noise outside and when he investigated, he saw Stewart loading spreader bars into the back of his pickup truck.
Stewart told the deputy he saw metal items located behind the business and they appeared to be junk metal. Stewart said he pulled his truck up and began to load the metal bars into his truck at which time the business owner came out with a gun, pointed it at him, then ordered him on the ground. Stewart admitted he did not have permission to remove the items from the property.
According to reports, Stewart said he did it because his home repair business is failing, therefore he has resorted to scrapping metal to make ends meet. According to the Volusia County Sheriff's Office scrap metal data base, Stewart has scrapped one ton of metal in the last 30 days with only 10 transactions.
Stewart has been arrested in Volusia County and other areas in Florida six other times on Charges to include Cocaine Possession, Tampering With Evidence, and Violation of Probation.
A search of Stewarts vehicle yielded several pills identified as muscle relaxers in which Stewart admitted to not having a prescription for them.
Stewart was arrested and transported to the Volusia County Jail and charged with Burglary of an Occupied Structure and Possession of a Legend Drug without a Prescription. He remains in custody at this time.