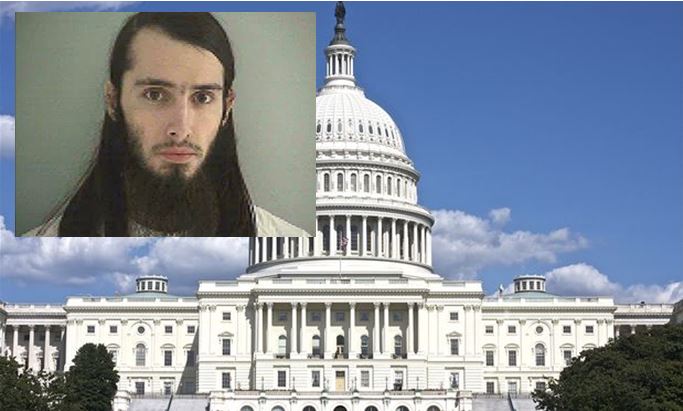 Green Township, Ohio — Assistant Attorney General for National Security, John P. Carlin, and Acting Special Agent in Charge John A. Barrios of the Cincinnati Division of the FBI announced today that the Joint Terrorism Task Force arrested a Cincinnati-area man for a plot to attack the U.S. Capitol and kill government officials. Acting Special Agent in Charge Barrios noted that the public was not in danger during this investigation.
Christopher Lee Cornell, 20, of Green Township, Ohio, — also known as Raheel Mahrus Ubaydah — was charged in a criminal complaint with attempting to kill officers and employees of the United States and possession of a firearm in furtherance of a crime of violence.
According to court documents, Cornell planned to purchase firearms then drive to Washington D.C. Once there, he planned to set off pipe bombs at the Capitol building then shoot and kill employees and officials as they ran for their lives.
Cornell also used his computer to research government buildings and instructions on constructing pipe bombs, including ingredients.
The plot was inspired by ISIS.
According to the FBI, Cornell used Twitter and other social media accounts under the alias Raheel Mahrus Ubaydah. He posted videos, statements, and other content expressing support for the Islamic State of Syria and Iraq (ISIS).
On August 29, 2014, Cornell told an undercover FBI informant through online messages that [he] wanted to launch Islamic State-style attacks on U.S. soil.
"I believe that we should just wage jihad under our own orders and plan attacks and everything," Cornell wrote in an online message to the informant. "I believe we should meet up and make our own group in alliance with the Islamic State here and plan operations ourselves."
In the message, Cornell said that such attacks "already got a thumbs up" from radical cleric Anwar Awlaki "before his martyrdom."
Today, as Cornell was walking out of a gun shop after purchasing two assault rifles, he was stormed by agents and arrested.
Cornell was taken into custody by the FBI Joint Terrorism Task Force (JTTF). The JTTF is made up of officers and agents from the Cincinnati Police Department, Colerain Police Department, Dayton Police Department, Ohio State Highway Patrol, United States Immigrations and Customs Enforcement, United States Secret Service, West Chester Police Department and the Xenia Police Department.
Within hours of Cornell's arrest, the FBI and Department of Homeland Security issued a bulletin to law enforcement agencies across the country notifying them of the case.
"The alleged activities of Cornell highlight the continued interest of US-based violent extremists to support designated foreign terrorist organizations overseas, such as ISIL, by committing terrorist acts in the United States," the bulletin read. "Terrorist group members and supporters will almost certainly continue to use social media platforms to disseminate English language violent extremist messages."