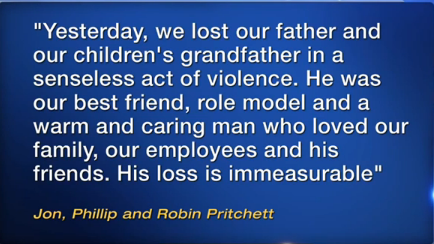 Lake Butler, Florida— Tragedy struck a family when a 72-year-old man shot and killed his former boss in Florida.
Union County Sheriff's officials said that Hubert Allen Jr. drove to several locations Saturday morning and shot four men. Three of the men were former co-workers of Allen. They worked for Pritchett Trucking, Allen had just retired from the trucking company only two weeks ago. Allen worked for the company for more than 30 years.
The other man that Allen shot and killed was his former boss and the owner of the trucking company , Marvin Pritchett. Allen also fatally shot Rolando Gonzalez-Delgado, one of the four men. One of the wounded Lewis Mabrey Jr., 66, is undergoing surgery and fighting for his life, the other victim is, Mr. David Griffis, 44, he was shot in the stomach and is listed in serious condition.
After shooting the men, Hubert Allen returned to his residence off of S.E. 6th Avenue, Lake Butler where he turned the gun on himself and pulled the trigger.
At this time the investigation is still ongoing, a motive for the shootings has not yet been determined.
Investigators are sure that Allen acted alone in the shootings and as the investigation continues more details will be released.
Steve Perez, CFO of Pritchett Trucking, released this statement:
"Today's tragic events have shocked and saddened the Pritchett Trucking family. We mourn the loss of our founder, Marvin Pritchett, and of Rolando Gonzalez-Delgado, and we pray for the recoveries of Lewis "Buddy" Mabrey Jr. and David Griffis. Our thoughts and prayers are with all of their families, and at this time our sole focus is on those impacted by today's events. Words cannot express the pain and sorrow felt by so many yet we are comforted by the memories of those lost."
"Mr. Pritchett was like a dad to me," said Tim Whitehead. "He was like a mentor to everyone he came into contact with. He built an empire here and he was someone you could look up to."
Art Peterson is the pastor at First Christian Church where the Pritchett family has gone to worship for decades. He said he knew almost everyone involved, including Hubert Allen.
"You know, in fact, I talked to him (Allen) last week," said Peterson. "It shocks me because never in a million years would I guess that he would do something like this."
Residents and family are having a difficult time grasping and understanding what happened. The community has never seen anything like this. The community is one where everybody knows everybody and everyone for the most part were like family.
Peterson said," It's just a time for people to come together and not judge anybody. As one of the sayings go, 'good always overcomes evil' and so we just need for that to help us now."