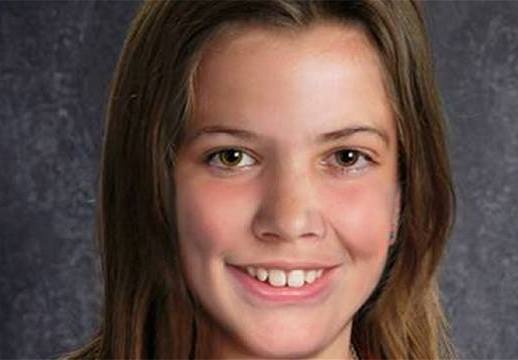 Deltona, Florida — A Deltona mother who hasn't seen her daughter since 2009 was finally reunited with her today, May 17, 2014, thanks to the determined efforts of the Volusia County Sheriff's Office, the Prosecutor from the State Attorney's Office and a Deputy United States Marshal.
Jodie Borchert had legal custody of her daughter, Sarah Cox, 12, while the girl's father had some weekend visitation rights. However after one such visitation in August 2009, Borchert went to pick Sarah up and discovered that the father, Aaron Cox, 55, and her daughter were nowhere to be found.
Sarah was only 8-years-old when she went missing.
Borchert reported her daughter missing to the Sheriff's Office and an arrest warrant was obtained for Cox, charging him with Interference with Child Custody.
For nearly four years there were no viable leads, but investigators never gave up hope that the child would one day be found. That hope was rewarded this week when a tip revealed that the Sarah and Cox were spotted in Mexico.
That information came in on Monday May 12, 2014 from the National Center For Missing and Exploited Children. For the past five days, the Sheriff's Office, U.S. Marshals Service's Sex Offender Unit, Florida/Caribbean Regional Fugitive Task Force and State Attorney's Office worked around the clock. The tip led to a remote area in the mountains of Hidalgo, Mexico, two hours outside of Mexico City. Friday morning, working with the Department of State and Mexican authorities, a United States Marshals Service team stationed in Mexico City traveled to the remote area where they conducted surveillance. They then successfully located and arrested Cox on the Volusia County warrant and recovered the girl.
Investigators learned that the pair had no known ties to Mexico and had been living under assumed names. Agents worked with the U.S. Department of State's American Citizen's Services to get an expedited passport for the child to get her back into the United States. On Saturday, she was flown from Mexico City to Miami where she was reunited with her mother.
Deputies from the Marshals Office in Miami took custody of Cox and booked him into jail there to await extradition back to Volusia County. The enormous undertaking also involved the Maryland State Police.
Investigators said so many times child kidnappings end badly and it is a great feeling after four years that they were able to return Sarah to her mother safely.