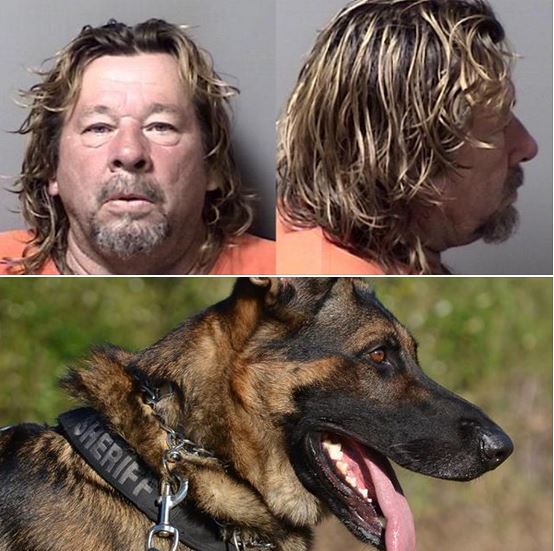 Citrus County — Deputy K-9 Zeus is back to work after being injured in the line of duty on August 21, 2014.
Deputies Cruz and Norton of the Citrus County Sheriff's Office, were dispatched to a domestic violence call on the aforementioned date.
Upon arrival, the victim told the deputies she and her boyfriend, Billy James Burnham, 53, had invited a group of friends over for drinks. After a couple hours of drinking, the victim said Burnham became angry and accused her of trying to have sex with one of their friends.
Burnham was still inside the residence while the deputies were interviewing the victim.
According to reports, Burnham had an altercation with one of their friends, who had left the area before deputies arrived.
After the friend left, the victim said Burnham retrieved a hammer and hit her on the back of the left leg.
According to reports, Burnham hit the victim hard enough to leave an impression of the head of the hammer on the back of the victim's leg.
Burnham also used the same hammer in an attempt to smash the victim's ankles.
Prior to deputies entering the home, the victim stated that Burnham also had a loaded gun inside the residence.
Deputies knocked on the door several times and verbally announced "Sheriff's Office," but Burnham would not respond, so the victim provided deputies with a key.
Upon opening the door, Burnham charged the deputies — striking Deputy Cruz in the head with an unknown object. Burnham then slammed the door shut.
K-9 Deputy Hryc was then dispatched to the scene. Also present were Sergeant Shephard and Deputy Stokes
Several attempts were made to try to get Burnham to surrender peacefully; however, those attempts failed.
Sergeant Shephard broke the window of the door, at which time Burnham threw the hammer through the window, nearly striking Sergeant Shephard and Deputy Stokes.
Deputy Stokes was able to deploy his pepper spray; however, it did not have any effect on the suspect.
Once deputies pried the door open, Burnham began to throw objects at the deputies.
K-9 Deputy Hryc then deployed K-9 Zeus.
K-9 Zeus charged Burnham, at which time he struck the dog with a metal baseball bat, which caused K-9 Zeus to retreat.
Burnham continued to swing the metal baseball bat at deputies. He then launched a fuel canister, which spilled all over the floor. At that time, Deputy Stokes grabbed the bat.
Deputies Stokes and Cruz were then able to deploy their Tasers and subdue Burnham.
Burnham was charged with Aggravated Domestic Battery, Battery on a Law Enforcement Officer, Aggravated Assault on a Law Enforcement Officer, Battery on a Law Enforcement Canine, and Resisting Arrest.
Dr. Mack, with Dunnellon Animal Hospital treated K-9 Zeus at 3 a.m. Zeus has since made a full recovery.
Deputies were not seriously injured during the incident.