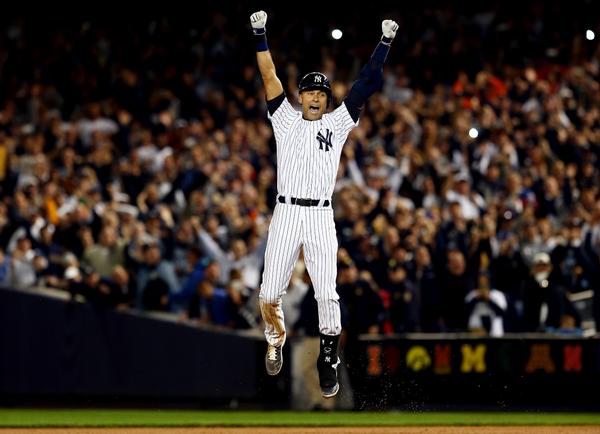 Derek Jeter's final game at Yankee Stadium was one to remember, as he hit a walk-off RBI single to win the game for the Yankees in the bottom of the 9th 6-5.
Jeter started the game off well to as he hit an RBI double of the left-center field wall eventually scoring on a fielding error. Jeter finished the game 2-5 with 3 RBIs and 1 run.
Going into the 9th inning it seemed like that Yankees had already won. They were up 5-2 in the 9th before closer David Robertson blew the save and gave up 3 runs on 2 home runs by Adam Jones and Steve Pearce.
Everything seemed to come together and set the stage for Derek Jeter as he came up to bat with 1 out and the winning run on 2nd. Jeter wasted no time as he swung at the first pitch driving it to right field.
After the game, Jeter took one final victory lap around the in-field, eventually stopping to take in his last view from the shortstop position.
Jeter said after the game that it was his final game playing the shortstop position.
—By Brandon Wilson—