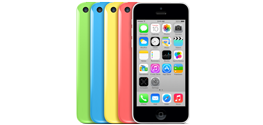 Today Apple unveiled its new iPhone 5C. Up until recently the phone has just been a rumor.
The new iPhone 5C is reportedly going to be cheaper than previous releases of the iPhone. The reduction in price is undoubtedly an attempt by Apple to try and regain lost ground to the superior Samsung Galaxy series of smart phones.
The iPhone 5C, which is made of plastic, starts at $99 for the 16GB version or $199 for 32GB, a two year contract is required in order to get the pricing.
The new 5C will also have more design features as well as upgraded technology features.
The 5C will be available in multiple colors, contain Apple's A6 chip, and an eight megapixel camera. Claims are the phone is 31 percent faster than the previous iPhone release.
While the new features, upgrades, and color choices look good on paper, critics say different colors and lower price will not make up for the lacking technology. Technology that is behind Samsung's Galaxy line.
Experts say that Apple has fallen over the past few quarters, falling to its lowest level in three years.
The iPhone 5C will be available in stores on September 20, 2013.
We want to know, are you pro-iPhone or pro-Samsung Galaxy?