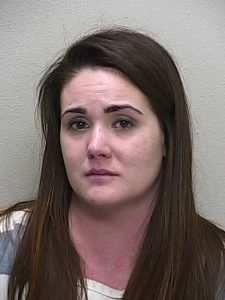 Ocala, FLorida — On January 12, 2014, at approximately 11:30 p.m., Ocala Police Officer, Jason Rodriguez, was working a hit and run crash involving an impaired driver.
Officer Rodriguez responded to the call and met with a witness that said a dark colored Lexus fled the scene after hitting several mail boxes and a parked car.
According to reports, Officer Rodriguez located the Lexus in the 4800 block of SW 63RD Loop and made contact with Lacey Manserra,29, who was identified as the driver of the Lexus.
According to reports, Manserra refused to answer any questions. After inspecting the vehicle, Officer Rodriguez discovered fresh damage consistent with the witness' account of the accident. Officer Rodriguez read Manserra her Miranda warning at which time Manserra consented to answer questions, but Manserra denied knowing what happened.
Manserra was slurring her speech and smelled of alcohol, according to reports. Officer Rodriguez asked Manserra if she had been drinking and she said she had stopped drinking around 10:30 p.m., and had not had anything to drink since she arrived home.
Moments later, Officer Joedicke arrived on the scene to conduct a DUI investigation. Officer Joedicke reported that Manserra was slurring her words, smelled of alcohol, and had glossy eyes.
Manserra was advised that she would have to perform some field sobriety exercises, and it was at that time Manserra's Husband yelled across the yard, "don't do it." Officer Joedicke explained that if she did not perform the exercises they (the officers) would have to go off their observations of her behavior, smell of alcohol on her, and the physical damage to the car described by witnesses.
Manserra still refused, she was placed under arrest and transported to the Marion County Jail.
Photos of the damage to the Lexus were place into evidence.
Manserra was charged with DUI and Leaving the Scene of an Accident Involving Property Damage.
No innocent victims were hurt during the hit and run.