[Last updated on October 7, 2016, at 4:33 p.m. Brought to you by Ocala Post and our partners at AccuWeather. ]
Stay tuned to this article for future updates and videos.
Shelters are now closed.
Hurricane Matthew is now a category 3, sustained winds of 120 m.p.h.
The National Weather service said, "Because the hurricane is over open water, the storm has the potential to regain strength."
Tropical storm warnings remain in effect for Marion County. Winds will possibly reach 40 to 50 mph, with gusts of 70 mph.
Matthew is currently 35 miles east northeast of Daytona Beach.
Marion County residents are urged to stay off the roads if they can.
Customers without power in Marion County
The Ocala Electric Utilities – approximately 1,065 customers
SECO reported approximately 100 customers
Clay Electric 3,300 customers
Duke Energy 2,400 customers
Electric crews will continue to do repairs as quickly as they can. However, once sustained winds reach 30 mph, crews will cease work.
Statewide, there are more than 600,000 people without power.
The NOAA said, "Due to expected flooding, heavy rain, and high winds with the possibility of tornadoes, the current threat to life and property is elevated."
The slow-moving nature of the hurricane will translate to days rather than hours of pounding surf, high winds and heavy rain.
Hurricane Matthew will "slam" parts of eastern Florida starting Thursday, and then spread up the coast of Georgia and the Carolinas Friday into the weekend.
Marion County schools are closed Friday only.
The College of Central Florida wrote, "Starting at 5 p.m. Thursday, ALL College of Central Florida Classes will be canceled and campuses closed. Campuses will remain closed until Monday. The closing is for the Ocala Campus , Citrus Campus, Hampton Center, Levy Center, Levy Campus, Appleton Museum of Art, as well as online classes. CF classes and business operations are set to resume Monday, Oct. 10."
Polk, Flagler, Baker, Orange, Osceola, Volusia, Polk, and Brevard, Broward, Martin, Palm Beach, Indian River, St. Lucy, University of Central Florida, Embry Riddle, Bethune Cookman, Seminole State College and Okeechobee County schools will be closed Thursday and Friday. Florida School for the Def and Blind will also be closed.
Florida Hospital Flagler continuing with evacuations. Patients will be transferred to other Florida Hospital facilities.
All Brevard County bridges remain open at this time.
As the storm moves closer to the coast, conditions will become more favorable for tornadoes.
Hurricane Matthew, which made its first landfall Tuesday morning, is undoubtedly a powerful storm.
The storm is approximately 400 miles wide.
More than 1.5 million people have been evacuated from the U.S coastline.
Seas and surf along the coast of the southeastern United States will build and become dangerous.
All residents — coastal and inland — should be prepared for strong winds, heavy rain, and flooding.
Governor Rick Scott issued a State of Emergency for Florida, and has urged all residence to be prepared, just in case.
Curfew
Marion county is not currently under a curfew.
Seminole County – curfew from 5 a.m. Friday to 7 a.m. Saturday,
Orange County – curfew from 10 p.m. Thursday to 7 a.m. Saturday, except for emergency personnel and those going to and from work.
Volusia County curfew from 5 a.m. Friday to 7 a.m. Saturday
Osceola County curfew was lifted
Sumter County curfew lifted
Price gouging
There have been many complaints of foreign-owned stores engaging in price gouging. Not just with gas, but also propane tank exchanges, ice, and water. If you feel a store is taking advantage of citizens, call 1-866-8-NO-SCAM. Be sure to shoot a few pictures or record video if possible. Be sure to keep all receipts.
Florida law prohibits extreme increases in prices for essential commodities like:
Food
Ice
Water
Gas
Lumber
Hotels
Propane
Shelters
In anticipation for Hurricane Matthew, Marion County Emergency Management has announced two additional shelter openings.
Locations:
Belleview Middle School — 10500 SE 36th Avenue, Belleview, Florida 34420.  This is a Special Needs and General Population Shelter.
Vanguard High School — 7 NW 28th Street, Ocala, Florida 34475. This is a General Population and Pet Friendly shelter.
The Marion County Sheriff's Office Multi-purpose Room will be open as a shelter for the general population only. (This is not a special need or pet friendly shelter) The shelter will open at noon on Thursday, October 6.
Location
692 Northwest 30th Avenue in Ocala
For special needs residents with a pet, transportation will be provided Marion County Animal Services.
The Southeastern Livestock Pavilion, located at 2232 NE Jacksonville Road, Ocala, will be open to shelter livestock. All livestock will be accepted during regular business hours (8:00 a.m.- 5:00 p.m.).
The livestock owners must provide food, water buckets, and care for their livestock.
The cost of this sheltering is $10 a day for a concrete stall. 188 stalls are available and it will be first come, first serve only. Please contact the Southeastern Livestock Pavilion at 352-671-8600 for more information.
If you have questions about the storm or shelter information, residents can speak to an Emergency Management representative by calling 352-369-7500.
Article continued below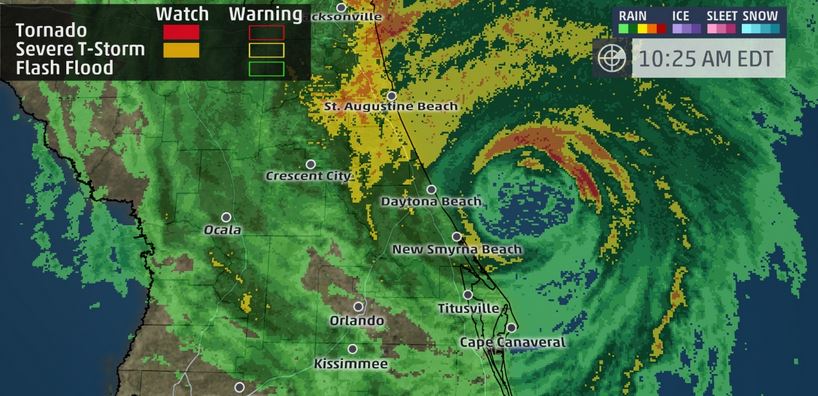 Mobile homes
According to the NOAA, sustained winds make it more dangerous to stay in a mobile home. Currently, Marion County is under a voluntary evacuation. The NOAA says Marion County could have 40-50 mph winds (sustained) with 70 mph gusts. Storms are every unpredictable. If you feel that you may not be safe in a mobile home, you may want to make other arrangements. It is never a good idea to wait until the last minute, as roads may be blocked.
Sand bags for Ocala Residents
In preparation for Hurricane Matthew, the City of Ocala will open sandbag stations on Wednesday, Oct. 5 and Thursday, Oct. 6 from 8 a.m. to 6 p.m.
Locations:
Martin Luther King Jr. Recreational Complex, which is located on Northwest Fourth Street, just off State Road 40 (Silver Springs Boulevard).
Tuscawilla Park pavilion off Northeast Watula Avenue. Staff recommends approaching the sandbag station in Tuscawilla Park from the south to allow for a more efficient flow of traffic.
Sand bags are provided to City of Ocala residents at no charge. Limit is 10 per household.
Sandbags for Marion County Residents
Marion County Emergency Management will open four sand bag locations at four MCSO District Offices on Wednesday, October 5, at 8 a.m.
These locations are mostly self-serve, but if you need any assistance, please see the front desk staff member at the District Offices during business hours (8:00 a.m. to 5:00 p.m. daily).
Locations:
North Multi District Office – 8311 N Hwy 441 Ocala, FL 34479
South Multi District Office – 3260 SE 80th Street Ocala, Fl 34480
Forest District Office – 1600 E. Hwy 40 Silver Springs FL, 34488
Dunnellon District Office – 19995 SW 86th St. Unit 3 Dunnellon, FL 34433
There is no sand bag limit at these locations.
Article continued below
Closeup live loop of Matthew. (NOAA/Satellite)
Florida
According to the National Weather Service, a hurricane watch was issued Tuesday afternoon for Florida's southeast coastline, many of which have been upgraded to warnings.
At approximately 5:15 p.m., Tuesday, Port Canaveral officials ordered an evacuation.
The order is for all marinas, Jetty Park campers, all Port businesses, and tenants. Everyone must be out by Wednesday at noon.
According to the U.S. Coast Guard, Canaveral harbor remains closed.
The closure means no vessel traffic of any kind will be allowed in the harbor until after the storm has passed and the order has been lifted.
Travel disruptions will occur
Cruise, freight and, charter airline interests should be prepared to change itineraries until the storm has passed. Commercial airline delays and cancellations are likely as the storm approaches. Some airports will close.
Evacuations
Brevard County announced a mandatory evacuation, which started at 3 p.m. Wednesday
Volusia County is under a mandatory evacuation
Johns County  is under a mandatory evacuation
Flagler County is under a mandatory evacuation for everything east of the Intracoastal, including Marineland, Hammock, Flagler Beach. Particulary the barrier islands, low-lying areas, and mobile homes
Seminole County is under a voluntary evacuation of mobile homes and low-lying areas
Broward County – Voluntary evacuations have begun for mobile homes and low lying areas
Clay County – Voluntary evacuations have begun
DeSoto County – Voluntary evacuations have begun for manufactured homes, RVs and low lying areas
Duval County – Voluntary evacuations have begun
Indian River – Mandatory evacuations have begun for barrier islands, mobile homes, and low lying areas
Martin County – Voluntary evacuations have begun for barrier islands, low-lying areas, and mobile homes
Miami-Dade County – Voluntary evacuations have begun for mobile homes, low-lying, and unstable structures
Nassau County – Voluntary evacuations have begun
Palm Beach County – Voluntary evacuations have begun for barrier islands, mobile homes, substandard housing, flood prone areas, and those living in high rises close to the Intracoastal Waterway. Mandatory evacuations begin today
Lucie County – Voluntary evacuations have begun for barrier islands, mobile homes, and low lying areas.  Mandatory evacuations begin today
Weapons
In 2015, Governor Rick Scott signed a bill allowing citizens to carry a concealed weapon without a permit during a state of emergency. SB 290 created an exception to the conceal carry law and allowed a person to carry a firearm concealed without a permit while evacuating pursuant to a mandatory evacuation order during a state of emergency declared by the Governor under Chapter 252 or an emergency declared by a local official under Chapter 870 .
HB did not change any provisions related to the current concealed carry weapons permit law, but added the ability for persons without concealed weapons permits to carry concealed during mandatory evacuation orders under declared emergencies.
The bill only applies to law abiding citizens, not felons.
 October 7, 11:26 a.m.