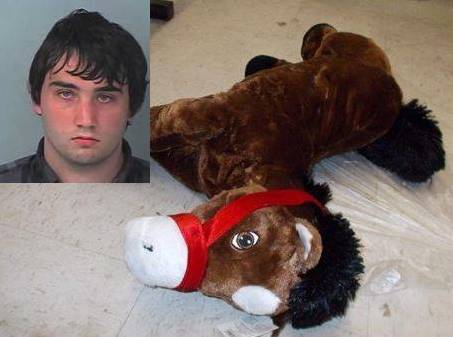 Brooksville, Florida — Sean Johnson, 19, was released from jail on $1,500 bond after being arrested on Tuesday. 
Brooksville Police said they responded to a Brooksville Walmart after receiving a call about someone exposing himself.
Loss Prevention said they had followed Johnson through the store with cameras because he "was acting suspicious and kept looking around."
Security said at one point, Johnson went to the toy section and chose a brown stuffed horse from the shelf. He then walked over to the bedding department.
According to police, Johnson then pulled out his penis and began humping and masturbating with the stuffed horse to the point of ejaculation.
After Johnson was finished, police said he zipped up, returned the contaminated stuffed horse to the shelf with other items, and walked away.
A spokesperson from Walmart said all of the items would be properly discarded.
Johnson was arrested in the parking lot and charged with Indecent Exposure.