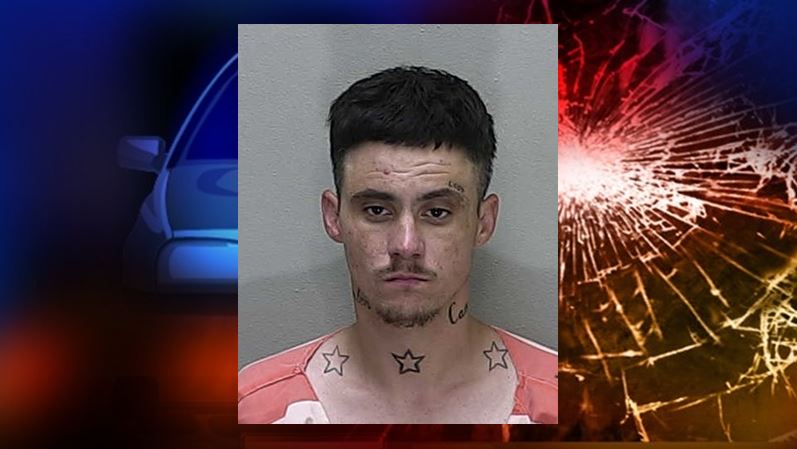 The Florida Highway Patrol arrested a man Monday they say was involved in a hit-and-run crash.
Joshua Turner, of Weirsdale, was arrested and charged with Hit and Run-Leaving the Scene of an Accident Involving Property Damage (x6), Hit and Run-Failure to Remain at a Crash Involving Serious Bodily Injury (x3), Driving while License Suspended-Second Offense, and Grand Theft Auto.
According to reports, Joshua Turner, 28, and his passenger, 27-year-old Andrea Fedore, were traveling eastbound on Southeast 175th Street in a stolen 2012 Ford Explorer.
Troopers said as the Explorer approached the intersection of southeast 155th Avenue, Turner failed to stop for the stop sign and T-Boned a 2011 Dodge Ram, driven by Harlie Coppernoll, 24. Chris Cornelius, 38, and a three-year-old were passengers in the Ram.
Armed with what was later determined to be a black BB gun, Turner fled on foot.
Troopers said they were able to get a good description of the suspect. FHP, Florida Fish and Wildlife Conservation (FWC) officers, FWC K-9 units, and multiple FHP and FWC K-9 teams from Gainesville and Orlando were brought in to search for the suspect.
At approximately 4:30 p.m., an FWC officer who was patrolling County Road 42 near the intersection of Southeast 150th Avenue Road, spotted Turner.
In wet clothes and without shoes, Turner was immediately taken into custody.
Turner stated that he didn't know anything about a stolen vehicle and denied his involvement if the car crash.
A search of Turner's pants pocket turned up a Ford key, which fit the ignition of the stolen vehicle.
The occupants of the Ram were treated for minor injuries and are expected to make a full recovery.
Turner's bond was set at $27,000. As of 12:52 p.m., Tuesday, Turner remained at the Marion County Jail.