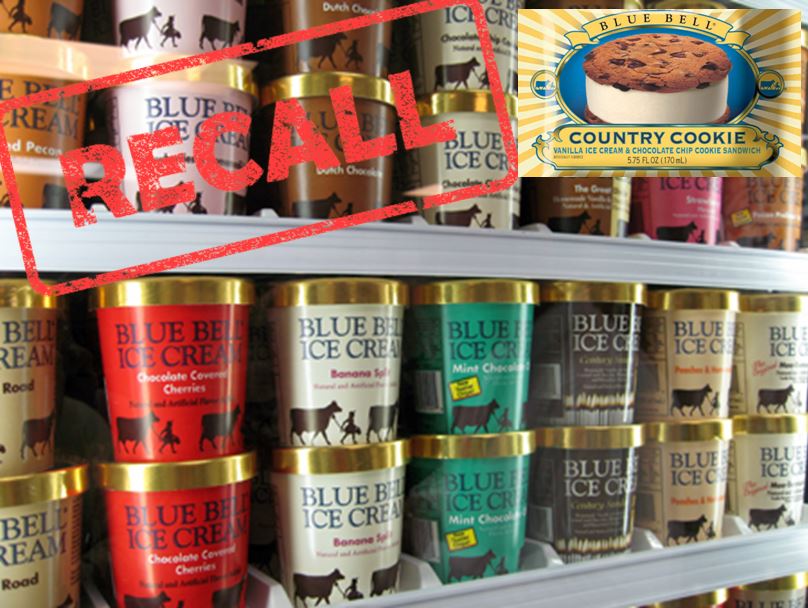 It has been confirmed that three people that died had eaten Listeria-tainted ice cream products from Blue Bell, the Centers for Disease Control and Prevention announced this week. Originally, Kansas Department of Health and Environment said that the Listeria might not have been the main cause of death in the three adults, but that it was definitely a contributing factor.
Ocala Post also reported that the Sabra Dipping Company recalled 30,000 cases of its classic flavor hummus because of the same bacteria.
On April 7, 2015, FDA notified Blue Bell Creameries of Brenham, Texas, that Listeria monocytogenes was present in samples of Blue Bell Banana Pudding Ice Cream pints. FDA collected the samples as part of a joint inspection with the Oklahoma Department of Agriculture, Food and Forestry (ODAFF) of the Broken Arrow plant which began on March 23, 2015. During the inspection, the ODAFF collected a sample showing the presence of Listeria monocytogenes from a 3 oz. Blue Bell chocolate ice cream cup with a tab lid, which was part of an earlier recall by Blue Bell Creameries.
Subsequently, on April 7, 2015, Blue Bell Creameries expanded the recall disclaimer icon of ice cream manufactured in its Broken Arrow, Oklahoma, plant to include additional products that have the potential to be contaminated with Listeria monocytogenes. The company has reported that the recalled products were manufactured on the same production line that produced the ice cream that showed the presence of Listeria monocytogenes and that the products were manufactured between February 12, 2015, and March 27, 2015. A list of recalled products is located at the bottom of this article.
The products being recalled are distributed to retail outlets, including food service accounts, convenience stores and supermarkets in Alabama, Arizona, Arkansas, Colorado, Florida, Georgia, Illinois, Indiana, Kansas, Kentucky, Louisiana, Mississippi, Missouri, Nevada, New Mexico, North Carolina, Ohio, Oklahoma, South Carolina, Tennessee, Texas, Virginia, and Wyoming.
Additionally, Blue Bell Creameries has reported that on April 4, 2015, the firm began working with retail outlets to remove all products produced in Broken Arrow, Oklahoma, from their service area.
The CDC has recommended that consumers do not eat any Blue Bell brand products made at the Blue Bell Creameries' Broken Arrow, Oklahoma, production facility and that retailers and institutions do not sell or serve them.
According to the CDC, this advice is especially important for people at higher risk for listeriosis, including pregnant women, adults 65 and older, and people with weakened immune systems.
Listeriosis is a serious illness caused by eating food contaminated with the bacteria called Listeria monocytogenes. Anyone who experiences fever and muscle aches, sometimes preceded by diarrhea or other gastrointestinal symptoms, or develops fever and chills after eating the ice cream should seek medical care and tell their health care provider about any history of eating the ice cream. Symptoms can appear from a few days up to a few weeks after consumption of the contaminated food.
Blue Bell Creameries encourages consumers who have purchased these items to return them to the place of purchase for a full refund. For more information consumers with questions may call Blue Bell Creameries at 979-836-7977, Monday – Friday 8 a.m. – 5 p.m. CST or go to bluebell.com.
Blue Bell brand products made at the Broken Arrow, Oklahoma, production facility can be identified by checking for letters "O," "P," "Q," "R," "S," and "T" following the "code date" printed on the bottom of the product package.
| | |
| --- | --- |
| Product Name | Product Code |
| Ice Cream Cup Chocolate (3 FL OZ) | No UPC – SKU #453 |
| Ice Cream Cup Strawberry (3 FL OZ) | No UPC – SKU #452 |
| Ice Cream Cup Vanilla (3 FL OZ) | No UPC – SKU #451 |
| | |
| --- | --- |
| Ice Cream Pints: UPC # 071899-05101 5 | Code Date |
| Ice Cream Banana Pudding pint | 021217S |
| Ice Cream Butter Crunch pint | 021917S |
| Ice Cream Mint Chocolate Chip pint | 022017S |
| Ice Cream Cookies 'n Cream pint | 030317S, 030617S |
| Ice Cream Homemade Vanilla pint | 030417S |
| Ice Cream Dutch Chocolate pint | 032317S |
| Ice Cream Moo-llennium Crunch pint | 032417S, 032517S |
| Sherbet Pint: UPC # 0 71899-19990 8 | |
| Rainbow Sherbet pint | 021717S, 021817S, 022317S, 030217S |
| | |
| --- | --- |
| Sherbet Quarts: UPC # 0 71899-18992 3 | |
| Orange Sherbet quart | 032617S |
| Mixed Berry Sherbet quart | 032717S |
| 3 ounce Tab Lid Cup: Product # 136 *Institutional / food service cup only | |
| Rainbow Sherbet | 022417S, 022617S, 022717S |
| | |
| --- | --- |
| Gold Rim Half Gallon: UPC # 0 71899-03720 0 | |
| Ice Cream Homemade Vanilla half gallon | 030917T, 031017T, 031117T, 031217T, 031617T, 031717T, 031817T |
| Brown Rim Half Gallon: UPC # 0 71899-83548 6 | |
| Ice Cream Pistachio Almond half gallon | 031317T |
| | |
| --- | --- |
| Light Half Gallon: UPC # 0 71899-73501 4 | |
| Ice Cream Homemade Vanilla Light half gallon | 031917T |