,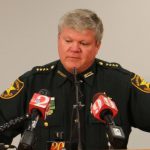 Ocala, Florida — On Friday, May 20, 2016, the State Attorney's Office for the Fifth Judicial District indicted Sheriff Chris Blair for two counts of Perjury in an official proceeding and one count of Official Misconduct.
On June 2, 2016, the grand jury produced a 13-page presentment on the leadership of the Marion County Sheriff's Office, now suspended Sheriff Chris Blair, and his administration.
Many have stated that the indictment was nothing more than a political agenda in order to prevent Blair from being re-elected as sheriff.
Political agenda
"The [grand jury] is aware that an election for sheriff will be held this year and there are numerous candidates running for sheriff. We have conducted our investigation without regard to the political situation. We are aware that some who appeared before us may have done so for reason of their own. That possibility was weighed in our evaluation of their testimony. None of the challengers running for sheriff have appeared before us, nor have we heard from anyone speaking on their behalf.
We are also aware that, after the most recent sheriff's election, another grand jury met to consider election law violation accusations involving Sheriff Blair. After the release of their report, which was critical of the sheriff, it was reported that [Blair] commented that the report did not reflect the grand jury's feelings but were the opinions of "one attorney" who authored the report.  While the State Attorney has provided us with legal advice as required by law, and has drafted documents on our behalf, also as required by law, the decisions and opinions expressed [in the presentment] are those of this body, reached in a secret deliberation, conducted outside the presence of the State Attorney and his staff."
The grand jury met eight times over the last three months and heard from 35 witnesses, which included the sheriff, members of his command staff, current and former deputy sheriff's ,civilians, and other law enforcement officers and executives.
Previous warnings
In December of 2015, Ocala Post received information from a source who stated that Sheriff Blair had long encouraged a culture of violence within the agency. The source stated that anyone who opposed him would be forced to quit, be fired, or reassigned to the jail.
The article sparked major controversy, however in light of the grand jury's findings, the source appears to have been very accurate with the information that was provided to Ocala Post.
Performance measures
"Although statistics had long been a part of the evaluation of deputies by MCSO, upon taking office in 2013 [Blair] announced that he was 'a numbers guy' and that it was 'all about the numbers.' It soon became apparent to those in the patrol division that they performance was measured almost exclusively by the number of traffic stops and the number of arrests they made. It was called 'activity' but those two things were the main activities that mattered.
The sheriff personally met with supervisors to review the 'activity' of individual deputies. Those he determined to be too low were to be informed that, if they did not make more traffic stops and arrests, they would be removed from their chosen career path and transferred to the jail as punishment, even though most of them did not hold the proper certification to work as correction officers.[In addition, this tended to demean those who had chosen a career in corrections by treating an assignment to the jail as a punishment.] Other deputies who failed to keep high 'activity' were not given the work assignments to which their seniority would have otherwise entitled them. Instead, they were given areas and shifts that could be excepted to create problems for the deputy causing experienced and conscientious deputies to resign."
According to the presentment, any employee who disagreed with the sheriff would be moved to the jail. In fact, Blair created many positions just to be able to have a place he could send any employee who disagreed with his unethical tactics, which included falsifying police reports.
During this time, Blair claimed that MCSO was short on experienced deputies, however an investigation revealed that he himself removed the experienced deputies who would go "against" Blair to do the right thing and uphold the law. Consequently, Blair's actions and ego put Marion County citizens at great risk.
Along with manipulation of deputy performance statistics, Blair also manipulated crime statistics to make it appear as though crime in Marion County had dropped as a result of his election. This became apparent when Ocala Post contacted the Florida Department of Law Enforcement to verify the decrease in crime rate that Blair had released to the public.
In 2014 Ocala Post found that Marion County was listed as number 30 out of 67 counties for most dangerous. Ocala was number 17 in the state of Florida for most violent cities.
However, Blair stated that crime in Marion County had dropped by 5.3 percent.
After discussing these crime rates with FDLE, it was determined that the crime reduction was only half true due to the fact that the 5.3 percent only pertained to the portion of Marion County patrolled by the Sheriff's Department. According to FDLE, the statistics did not include the crimes that had taken place within the inner city. Moreover, the percentage did not include the vast majority of crimes that occurred in Marion County in 2014, such as drug offences, prostitution, DUI arrests, etc. Furthermore, Ocala Post was told by FDLE that the crime rate statistics are only as good as the information reported to them by the local law enforcement agency, which in the case of MCSO, were manipulated.
The false crime statistics are dangerous because it gave Marion County residents a false sense of security.
"[The grand jury] understands there is a need to keep statistics and there is a proper role for them in evaluating the performance of law enforcement officers. However, for those in the patrol division at the MCSO, statistics, and only two of them, seems to have eclipsed all other factors in their evaluation as a deputy."
Even more disturbing, is how Blair and his administration manipulated the rate of crime clearance.
"For detectives, as opposed to patrol deputies, the most important 'activity' was their rate of crime clearance. Because of the high crime rate that was expected, there was often manipulation of statistics to achieve these numbers. For example, if there was a rash of burglaries in a given area, they might be 'exceptionally cleared' by attributing them to an individual arrested for burglaries in another area although there was no evidence connecting that individual to the first group of burglaries. Although this practice was said to be common [under the previous sheriff], Blair continued it."
In other words, if detectives arrested an individual for burglaries that had occurred in Marion Oaks, they would also "pin" burglaries that had occurred in Silver Springs Shores on that same individual, even though there was no proof.
Vehicle Pursuits
Even though Blair denied it, he has been heard many times telling his deputies to "kick ass and take names." Blair lives by the term, "we always get our man," no matter the consequences or danger to other citizens.
"MCSO has a written policy about vehicle pursuits. The policy provides that any supervisor can cancel a pursuit if it appears appropriate to do so. In march of 2014, a deputy began pursuing a vehicle. The shift commander, a captain with many years experience, determined that the pursuit should be cancelled, in part because the deputy knew the identity of the driver so that a warrant for his arrest could be obtained and he could be arrested with the risk of a pursuit.
The sheriff personally addressed many of the patrol deputies and told them that the captain had made a mistake by cancelling the pursuit. [Blair] further instructed the deputies that if a vehicle pursuit was started the pursuit would continue until 'the wheels fell off.'"
Blair denied making [that] statement, but multiple witnesses testified otherwise.
According to the National Institute of Justice, High-speed chases should be reserved for individuals who are considered extremely dangerous or pose a safety hazard to the general public. High-speed chases should not take place if a person's identity is known, or is wanted for a misdemeanor violation.
"High-speed pursuits expose any [law enforcement agency] and the general public to a high risk of loss of life," said the National Institute of Justice.
"On Friday, June 19, 2015, MCSO received a 911 call in which the caller said that her boyfriend had hit her, was outside when she was making the call, and that he had left before deputies arrived. She also provided the boyfriend's name, date of birth, a description of his vehicle, and informed the 911 operator that there was a warrant for his arrest. During the subsequent pursuit, it was determined the boyfriend had been issued a traffic ticket for not having notified the DMV of his change of address. Because he failed to appear in court as directed by the traffic ticket, a warrant for his arrest was issued. During the pursuit deputies also determined that there were two passengers in the vehicle, in addition to the driver.
Responding deputies spotted the vehicle and attempted to stop it at 10:32 a.m. The driver fled and a pursuit was started. The pursuit lasted for over 42 minutes and covered 57 miles. This is an average speed of 81 miles per hour, but the speed clearly exceeded that at times. Several times during the pursuit the driver drove on the wrong side of the road into the path of oncoming traffic. At one time, both the fleeing driver and pursuing deputies were on the wrong side of a divided roadway. On other occasions the fleeing driver and pursuing deputies drove on the left of a double yellow line as they went around curves and over hills. Video of the pursuit also shows that it went through downtown Dunnellon and involved four of five different sheriff's department vehicles as well as the department helicopter. In addition to driving on the wrong side of the road, deputies also drove through business parking lots and nearly hit a SUV that was passing by.
The pursuit went through portions of Citrus County, returned to Marion County, and continued on into Levy County. Once in Levy County, a MCSO marked unit used a PIT maneuver on the vehicle while traveling at a high rate of speed. The vehicle spun out of control and rolled over. One of the passengers (not the driver) had his arm cut off during the crash and a second passenger (not the driver) suffered brain damage. The driver was not injured and fled on foot, but was captured a short time later."
MCSO policy allows for any supervisor to cancel a pursuit if it "exposes the public or deputy to more danger that can be reasonably justified."
The chase was not called off because of Blair's previous warning about continuing a chase "until the wheels fall off."
This is just one of many pursuits that has put citizens at great risk. Some of the pursuits involved a person driving on a suspended driver's license.
Specialty units
Most citizens know about the many specialty units created by Blair after his election.
One of those units was the Tactical Investigations Unit (TIU). Deputies for this unit were handpicked by Blair. They were chosen based upon their high 'activity' and not their experience.
Many supervisors pointed out that some of the deputies were inexperienced, but Blair overruled them. Blair wanted the deputies because they were "high producers."
During a meeting about the new unit, the deputies were told that their job was to "kick ass and take names." The administration told the deputies that they knew there would be complaints, but they would be "handled." The administration went on to say, "We don't give a shit about complaints."
"Although said flippantly, it was clearly inappropriate and, together with the other remarks, could easily be interpreted as a license to act outside proper limitation," said the grand jury.
In fact, when the TIU disrupted a long-term investigation being conducted by the drug unit, drug agents complained to the Sheriff's administration.
Like something from the movie Training Day or Street Kings, drug agents were told that the TIU had "free rein" to operate as they saw fit.
According to the presentment, uniform patrol deputies received that same message.
Interim Sheriff Emery Gainey's response:
1) The Grand Jury proposed that the MCSO create a separate Internal Affairs Division to investigate use of force incidents and other internal matters. Upon his initial observations of the agency during his first week as Sheriff, Sheriff Gainey created a separate Internal Affairs Unit on May 27, 2016, before the Grand Jury's recommendations were released on June 2. This unit will be made up of four experienced detectives and one executive assistant and will report directly to the Sheriff outside of the normal chain of command.
2) Sheriff Gainey agrees that all employees should be required to report any incident where they believe excessive use of force was used. The current MCSO policy has been further amended to reflect this recommendation. All employees will be trained on how to report such incidents and employees will be able to remain anonymous when reporting an incident.
3) The MCSO will not allow deputies or any other personnel to alter a report once it has been entered into the records system and approved by a supervisor. Any changes—and the reason for the change—will be entered as a supplement to the original report.
4) In the coming weeks, Sheriff Gainey will be creating a new Citizens Review Board to review cases of excessive use of force. Sheriff Gainey will be reaching out to community leaders and other local government officials to serve on this board. The MCSO will solely sponsor the board, allowing them to conduct their functions and make recommendations independently. Sheriff Gainey will strongly recommend that the new Sheriff, who will be elected by Marion County citizens in November, continue to support the existence of the Citizens Review Board.
5) Sheriff Gainey has no objection to the Grand Jury's recommendation for the Florida legislature to change the existing state law to allow the state to prosecute law enforcement officers who commit criminal violations of an individual's civil rights.
Additionally, Sheriff Gainey believes the MCSO needs to focus on putting quality over quantity, not only when referring to a deputy's activity, but also with their relationships and communications with the citizens they serve. Prior to the release of the Grand Jury's Presentment, Sheriff Gainey met with all patrol supervisors to further encourage this mentality be instilled among all MCSO patrol deputies.