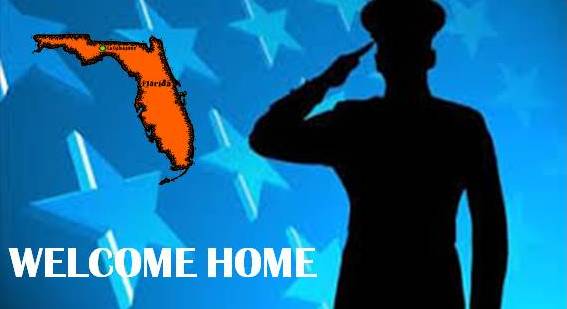 Tallahassee, FL. – Today, Florida's Senators met to honor the brave men and women who serve in the United States Armed Forces. During the 2014 Florida National Guard Day at the Capitol, the Senate unanimously passed the Florida GI Bill, House Bill 7015, which is aimed to establish Florida as the top "Welcome Home" state for the military, veterans and their families.
"More than 1.5 million veterans, 61,000 active duty military personnel and nearly 12,000 Florida National Guard members and their families help make Florida the great state it is today," said Senate President Don Gaetz (R-Niceville), whose Northwest Florida district houses five military bases. "To show our gratitude for their unwavering commitment and sacrifice, the Florida Legislature today finalized our commitment to make our state the most-military friendly in the nation."
The Florida GI Bill, which passed the House unanimously on the first day of the Legislative Session, is a joint priority of President Gaetz and House Speaker Will Weatherford (R-Wesley Chapel) and will now move to Governor Rick Scott's desk for his signature.
"I understand the challenges our men and women in uniform face when returning to their loved ones and communities," said Senator Garrett Richter (R-Naples), a former U.S. Army Ranger and Vietnam Bronze Star recipient. "Military training provides our veterans with unique skills sets that can be a tremendous benefit to private industry. It was my honor to stand with the Senate today to welcome our service members home by reducing barriers to employment and increasing opportunities for entrepreneurship in the private sector."
"The Florida GI Bill will expand education and employment opportunities available to thousands of service members and their families who live in my district and across Florida," said Senator Thad Altman (R-Melbourne). "We have heard from military communities across our state who let us know Florida can do more to celebrate the service and sacrifice of our military and veterans. The Florida GI Bill is a product of this input and shows our gratitude to those who have bravely served our country and our communities."
Expanding Education and Employment Opportunities
Education
The GI Bill increases funding for the Educational Dollars for Duty (EDD) program to cover career certification and continuing education for maintaining licensure, provides for out-of-state student veterans to receive in-state tuition rates via the Congressman C.W. Bill Young Veteran Tuition Waiver Program, and encourages military base commanders and the Commissioner of Education to work together to increase military family student achievement. Specifically, $1.53 million in recurring funding is allocated towards the EDD program to expand education options for National Guard members to include industry certifications and continuing education to maintain license certifications. Preference in the distribution of funds is given to those National Guard members who have deployed on federal military orders. Textbook costs may be reimbursed after tuition has been paid for all eligible members in that year. The Department of Military Affairs (DMA) will receive $250,000 in nonrecurring funds for IT upgrades associated with administering and auditing the EDD program.
The GI Bill creates the Congressman C.W. Bill Young Veteran Tuition Waiver Program which directs state universities, state colleges, career centers, and technical centers to waive out-of-state tuition fees for honorably discharged veterans. Tuition and fees charged to an out-of-state student veteran may not exceed the tuition and fees charged to a resident student.
The bill provides legislative intent that the unique needs of military families be met and a framework be established to provide children of military families with a high-quality education. Military installation commanders are encouraged to work with the Commissioner of Education to increase military family student achievement, which may include the establishment of charter schools on military bases.
Florida is for Veterans, Inc.
Florida is for Veterans, Inc. (FIV) will be administratively housed at the Florida Department of Veteran Affairs (DVA). The corporation is charged with promoting the value of military skill sets to businesses in the state and assisting in training veterans via the VETS program. FIV will receive $300,000 from Visit Florida for market research on the veteran and military community and advise Visit Florida in the development and implementation of a marketing campaign encouraging veterans and service members to make Florida their permanent residence.
The VETS program housed at FIV is a workforce training program that caters to the unique training needs of veterans. This program is structured to serve as a hub where employers can be connected with veterans looking for jobs. Training that is needed to fulfill workforce needs can be funded through the VETS program. The program also provides services, such as resume building and helping veterans translate military training into civilian workforce skills. As part of the VETS program FIV will contract with one or more university systems to establish entrepreneurial training programs for veterans.
Veteran Preference in Hiring
The GI Bill expands the employment preference for positions in state, local and regional governmental entities, including the public education system, to all veterans, current members of the Reserves and the Florida National Guard, and the parents and spouses of service members who died in combat. The bill also establishes a permissive preference in private employment which allows businesses to establish hiring policies to give veterans and the spouses of disabled or deceased veterans' preference.
Driver Licenses and Professional Licenses
The bill exempts an active duty service member's spouse and dependents with out-of-state driver licenses who reside with him or her from the requirement to obtain a Florida driver license if the service member's spouse begins employment in Florida or a dependent enrolls in a Florida public school. The bill also clarifies the spouse and dependent are eligible for an automatic extension without reexamination for a Florida driver license that expires while he or she is stationed outside of Florida. Additionally, the bill waives the initial licensing fees for 60 months for licenses obtained through the Department of Business and Professional Regulation and the Department of Health (DOH) for honorably discharged veterans and their spouses.
Nursing Home Residency, Physician Licensing, and Pharmaceutical Distributor Representatives
The GI Bill removes the one-year residency requirement to allow veterans, who meet all other requirements for admission and are currently residents of the state, immediate access to vacancies in the state nursing homes.
Reciprocity is provided to license health care practitioners in their respective fields if those applicants have received, or will receive, an honorable discharge from service in the U.S. Armed Forces, including Reserve and National Guard components, or the U.S. Public Health Service.
The DOH application process for veteran and active military physicians applying for a temporary certificate for practice in underserved communities is streamlined. DOH must make a determination within ten days of receipt of the application.
The bill adds experience with handling prescription drugs for the U.S. Armed Forces to the list of qualifying experiences to become a certified representative of a wholesale drug distributor.
Investing in Florida's Military Infrastructure
Base Buffering
The bill fully funds the top-tier base buffering needs of our military installations. This includes an appropriation for $7,489,975 to acquire lands around NSA Panama City (8.4 acres), NS Mayport (11 acres), and MacDill AFB (25.5 acres). The purchase of these non-conservation lands secures and protects the military installation against encroachment.
Armory Revitalization
The GI Bill appropriates $12.5 million which covers the next year of funding of the Florida Armory Revitalization Program (FARP). Some of Florida's armories have not been modernized since the 1960's and funding FARP is critical to the National Guard's ability to keep armories safe and serviceable.
Florida is now on its way to becoming the most Military friendly state in the nation.