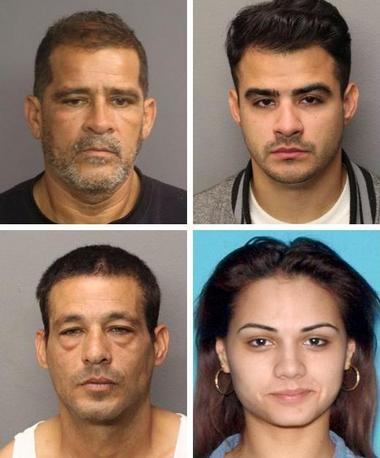 Newark, New Jersey –Four adults, including a father and son team, now face serious prison time after being charged with Conspiracy, Prostitution, Human Trafficking, Sexual Assault on a Child, and Production of Pornography Involving a Child.
Charles P. Torres, 59, Charles B. Torres, 26, Victor Reyes, 38, and Patricia Munoz, 23, coerced a 15-year-old girl into the world of prostitution, according to the Essex County prosecutor's office. The 15-year-old was being taken from locations in Belleville and North Bergen to unnamed spots where she was forced to have sex with men, Assistant Prosecutor Kelly Sandler said in a press release. The girl would then turn over the money over to the older Torres.
Torres repeatedly raped the 15-year-old and would take pictures of her while she was nude, then text them to potential clients.
Charles Torres was arrested back in August of 2013, but his son, Reyes, and Munoz continued to run the human trafficking/prostitution business and collect the cash while Charles Torres was behind bars.
An indictment was handed down in coordination with the state Attorney General's human trafficking task force. The FBI, Belleville Police, and the Hudson County Prosecutor's Office also took part in the investigation, according to reports.
All four adults are now facing 20 years to life in Prison if convicted. The state is using a comprehensive anti-trafficking law passed by the Legislature last year to aid in the prosecution.
"This is a prime example of the law being used to prosecute individuals who are targeting most the vulnerable in our state," said Kate Keisel, the New Jersey director of the Polaris Project, a Washington, D.C.-based organization that pushes for stronger laws against human trafficking and slavery and advocates on behalf of victims
Keisel, whose resource center is in Newark, said her office helped about 100 victims of trafficking last year, a number she expects to increase this year.
What most can't believe is how women can be involved in aiding in human trafficking, said one police officer.
Police say the law toughened penalties for those who publish ads for escorts who are minors, increases penalties for trafficking, established a victims' fund and created a 15-member state commission to look at the issue.
The investigation is still ongoing.