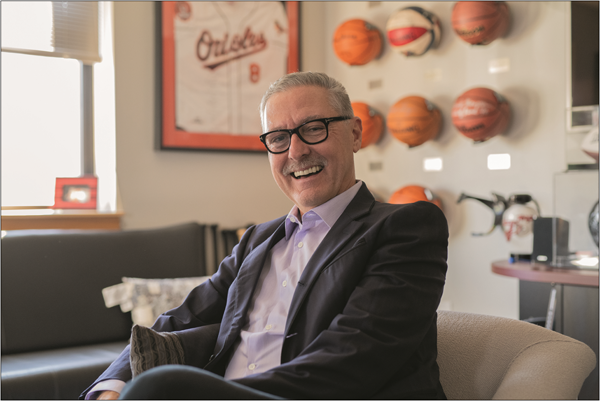 The founder of Ollie's Bargain Outlet, Mark Butler, passed away on December 1, while he was spending Thanksgiving with his family.
The company released the following statement.
"It is with profound sorrow that we acknowledge the passing of Mark Butler, Founder, President and CEO of Ollie's Bargain Outlet on Sunday, December 1st while spending Thanksgiving weekend with his family. We extend our deepest and most sincere sympathies to Mark's family during these most difficult of times. A true leader in every sense of the word, Mark was relentless in his pursuit of developing one of the fastest growing and most successful retail chains in America. His drive and passion for the business were infectious to those around him, forming a culture of achievement and success within the Ollie's family that he loved so much. Mark was a devoted family man, friend, mentor to so many, and an unmatched philanthropist. We will greatly miss his presence in our lives.
Mark grew up in Carlisle, PA and graduated from Trinity High School in Camp Hill, PA. He went directly on from there to begin his retail career. Mark soon found himself working for Mort Bernstein (co-founder of Ollie's), his business father, who taught Mark how to "walk, talk, and chew gum at the same time" when it came to business.
Mark rang the very first sale at Ollie's Bargain Outlet on July 29, 1982, in Mechanicsburg, PA. Together, he and Mort grew Ollie's until Mort's passing. In 2003, Mark took the helm with 27 stores in 3 states, growing the company to 345 stores in 25 states today. Ollie's currently employs over 8,000 associates across the company.
On July 16, 2015, Mark led Ollie's to a tremendous milestone. He rang the opening bell on NASDAQ that morning, signaling the first day Ollie's was publicly traded under the symbol "OLLI". Mark's accomplishments as CEO of a publicly-traded company are well documented and led to him being declared a "Bargain Billionaire" by Forbes magazine in 2019.
Mark had a sincere passion for helping underprivileged children. He proudly served as the Chairman of the Cal Ripken, Sr. Foundation whose mission is to build character and teach critical life lessons to at-risk young people living in America's most distressed communities. Mark also supported other children-focused charities including the Kevin Harvick Foundation, the Harrisburg Boys & Girls Club, and the Children's Miracle Network. In more recent years, Mark formed his own foundation (Mark L. Butler Foundation), focused on helping disadvantaged children in and around Central PA.
Mark also had a deep love for sports. As a huge fan of the University of Maryland Terrapins basketball team, he provided significant support to the school's athletic programs over the years. Mark also fueled his love of sports by becoming the majority owner of the Harrisburg Senators baseball team, the Double-A affiliate of the Washington Nationals. Mark loved to spend time at his ballpark on City Island and would frequently appear at games to greet and thank fans for their support of the team.
The entire Ollie's family will deeply miss Mark and his presence at Ollie's. We are eager to make Mark proud and to continue to uphold his legacy and fulfill his dream of opening more than 950 stores. Mark started a tradition here at Ollie's; at the end of every meeting he would close by saying, "We are…" and everyone knew that this was their cue to proudly chant, "Ollie's!"
Effective immediately, the board of directors has named John Swygert as the new President and CEO. John has been serving as Executive Vice President and Chief Operating Officer since January 2018 and previously served as Ollie's Chief Financial Officer since 2004. John worked closely with Mark over the past 15 years. Mark had tremendous confidence in John's ability to grow and lead the company to a successful and lasting future.
"Mark was an exceptional entrepreneur, merchant, leader, philanthropist, friend and family man," said board member Richard Zannino on behalf of the entire board of directors. "Mark built a successful and enduring retail concept, assembled an incredible team, created thousands of jobs and delivered millions of bargains to our customers while delivering exceptional shareholder value along the way." Zannino continued, "We will dearly miss Mark."
In memory of Mark, everyone say it with us, "We are…OLLIE'S!""