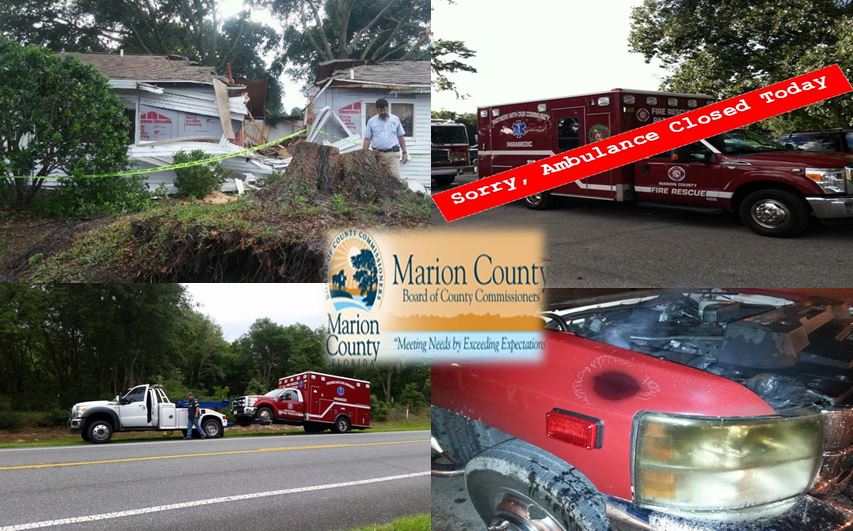 [Last updated on May 5, 2015, at 4:10 p.m.]
Ocala, Florida — This coming Tuesday, May 5, Marion County commissioners will vote to approve a complete re-organization of county management, which includes appointing a fire chief without an application process or a review of qualifications. County Administrator Bill Kauffman proposed the re-organization.
This re-organization is just one example of how the BOCC conducts business. Ocala Post previously reported on similar actions (article linked) that the Board referred to as a "reclass" of positions, where BOCC members voted to give substantial raises to a family member of a county commissioner.
The "re-organization" at hand is no different.
Instead of three assistant county administrators, the county would have two deputy county administrators. County Engineer Mounir Bouyounes would be one, and Fire Chief Stuart McElhaney the other.
Kauffman claims that the re-organization would save $120,000 by eliminating one position and combining others. But it's clear that money from the "deleted position" is being redistributed and would further line the pockets of those sitting behind a desk.
If approved, Bouyounes' salary would increase from $108,721.60 to $129,000.
The county director of Parks and Recreation and the landscape architect would be combined into one position, which will be headed up by Jim Couillard. His salary would increase from $65,312 to $73,659.60.
Additionally, the county's Growth Services Department and the deputy services director would become one position. Growth Services Deputy Director Samuel Martsold would lead that position. His salary would increase from $68,660.80 to $84,861.92.
On April 28 it was announced to all county employees that current Deputy Chief Paul Nevels would assume Stuart McElhane's position as fire chief. McElhane would then be promoted to one of the newly created Deputy County Administrator positions. His salary is $134,659.20.
These items, along with the job description of a fire chief, were placed on the county commission's agenda the next day.
However, after researching the requirements of the job, it would appear that heir apparent Paul Nevels meets very few of the qualifications to be a fire chief.
According to the job description, a fire chief is required to have a bachelor's degree in fire science, business administration, public administration or other related field, with a master's degree highly preferred. Also required is five years experience as a company officer in a combat firefighting position; hold, or at least be able to hold, an EMT certificate; be a Florida Professional Geologists or equivalent; have a driver's license; and have an emergency vehicle operations certificate, or EVOC. The job description further states that having a National Fire Association Executive Fire Officer certificate is preferred.
But, a review of county records indicated that Paul Nevels only meets two of those requirements –he has a driver's license and EVOC.
According to state records, at one time Nevels was an EMT, but his license has been labeled as "Null and Void" since 2012. This means he would have to go back to school for a semester to retake the course and pass the state exam to become certified again. If he doesn't, Nevels being placed in this position would be no different than giving a firefighter a gun and promoting him to a law enforcement position without proper training.
More astonishingly, it would appear that Nevels would not be qualified to be hired today as an entry-level firefighter, as he neither has a CPR card nor has he taken the federally required refresher courses to at least be considered a first responder.
Nevels would be handed a top-level position with a six-figure salary of $109,990.40 annually, and he is not even qualified for the job. His currently salary as deputy chief is $103,209.60.
Meanwhile, first responders that actually save lives — and risk their own — barely make the wages of someone who flips burgers for a living.
Non-application government appointments like this are rare for fire departments the size of Marion County Fire Rescue, which is the second largest fire department in Florida north of Interstate 4.
In reviewing the qualifications of other fire chiefs from surrounding areas, it would appear that all are paramedics and have at least a bachelor's degree with advanced training.
This has become the national standard for fire departments that also provide emergency medical services. The chiefs under Nevels are also paramedics, most of whom have furthered their education and have a higher level of advanced specialty training in HAZMAT or technical rescue.
Area fire chiefs from other departments include:
Ocala Fire Rescue Chief Bradd Clark, master's degree and paramedic.
Lake County Fire Rescue Chief Jeff Smith, bachelor's degree and paramedic.
The Villages Fire Rescue Chief Edwin Cain, master's degree and paramedic.
Sumter County Fire Rescue Chief Leland Greek, master's degree and paramedic.
Citrus County Fire Rescue Chief Jim Goodworth, bachelor's degree and paramedic.
Levy County Fire Rescue Chief David Knowles, master's degree and paramedic.
Alachua County Fire Rescue Chief Bill Northcutt, bachelor's degree and paramedic.
Nevels, though, has a history of being promoted to positions he seems unqualified for. As division chief of fire prevention, Nevels was not a certified fire inspector. When he was put in charge of the building department, he again was not a building inspector, which forced employees under him to perform his duties.
Ocala Post reached out to the Board and asked if job openings had to be advertised, and Public Information Officer Elaine McClain responded with the following:
Thank you for your inquiry. The county's employee handbook states the following:

MCBCC Employee Handbook Section 14.01.7:

Marion County recognizes the advantages of promoting employees from within its own organization, including lower turnover, better employee morale, a recruiting competitive advantage, better succession planning, reduced recruiting costs and other benefits. Whenever appropriate, Marion County may promote County employees from within the organization in order to receive the benefits of such advantages.
The citizens of Marion County deserve better than non-application political appointments that lead to six-figure salaries. Fire chief is arguably the most important senior management position under the Board of County Commissioners. Firefighters believe that commissioners should seek candidates externally and internally to find the most qualified individual to run the fire rescue department.
And while politicians continually give themselves hefty raises, there are men and women who actually put their lives on the line, take time away from their spouses, miss their children's birthday parties, face the stress of witnessing devastation, and struggle to survive on a daily basis.
Until the county chooses to increase funding for new emergency vehicles as well as funding to staff fire stations, Marion County residents and first responders are being put at great risk.
How much is a life worth?