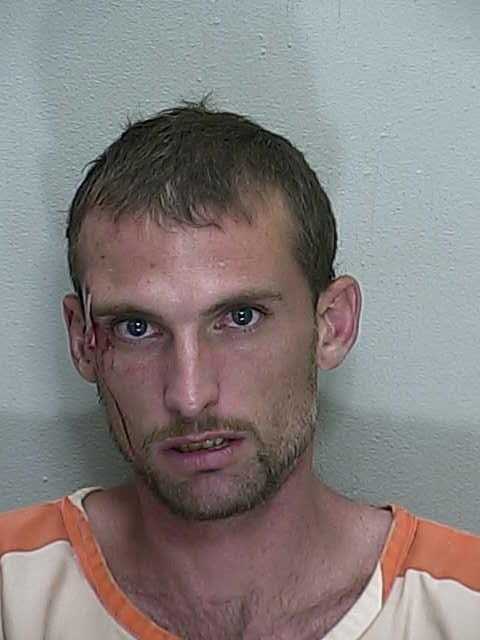 Ocala, Florida — The Ocala Police Department said convicted felon, Joshua Keith DeLong, 28, left his three children — ages five, seven, and eight — in his Cadillac for four hours while he was inside Dr. B's drinking.
According to the arrest affidavit, when Officer A. Colon arrived on the scene, DeLong was lying unconscious in the parking lot bleeding from a head injury.
A witness told police that she observed the children inside the car when the children started honking the horn and calling for their daddy.
The witness stated that she then walked inside the establishment and began to ask patrons who owned the gold Cadillac with the children inside.
The witness stated that once DeLong was located she stayed with the children who had been removed from the vehicle.
Security at Dr. B's gave the same accounts as what the witness had stated to the police.
Security also told police that they were not the ones that inflicted the head injury upon DeLong.
According to reports, after security escorted DeLong outside to his car he attempted to drive off with the children while he was heavily intoxicated.
Security told police that is when an angry patron struck DeLong in the head, knocking him out.
DeLong was transported to ORMC and treated for his injuries.
Police said the children were in the vehicle for four hours with the windows rolled up and the keys in the ignition. Additionally, the children told police that "their daddy does this all the time."
The children stated that they had eaten at Terry's Bar and Grill earlier and instead of their father driving home, he went straight to Dr. B's.
Despite multiple witnesses coming forward, DeLong told police he only drank three beers and denied that his children were in the car. Instead, he told police that he had left the children with their mother.
The mother denied dropping the kids off with DeLong, She stated to police that DeLong has had custody of the children for the past five days.
When asked about the injury to his head he told police that a group of angry guys jumped him because they were mad that he had left his kids in the car. He told police that the guys dragged him outside and then began striking him.
DeLong was charged with Felony Child Neglect (x3).
He was released from jail on $6,000 bond.