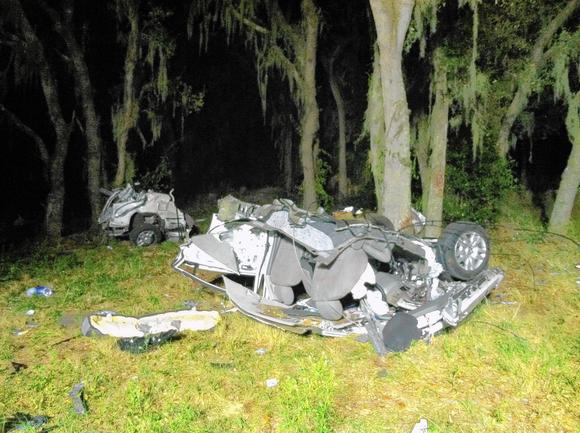 Polk County, Florida — At approximately 12:48 am, on Monday, March 03, 2014, Davenport and Haines City Police were investigating a suspicious person on US 17/92 and North Boulevard, Davenport.
As they were conducting their investigation, a white Nissan Altima, driven by 49-year-old Karen Reynolds Johnson, of St. Cloud, passed them at a high rate of speed traveling southbound on US 17/92.
Police said Johnson almost struck their patrol cars on the side of the roadway as she sped by. Haines City units attempted to catch up to and locate the vehicle, but were unsuccessful.
At 1:10 a.m., the PCSO Emergency Communications Center received a report of a crash at Davenport Boulevard and Old Holly Hill Road, Davenport.
A responding Davenport Police Officer located the crash which involved Johnson's Altima. The vehicle was badly mangled, had been torn in half and Johnson had been ejected as a result of the crash. The Davenport Officer attempted CPR on the victim until Fire and Medical units arrived on scene. Fire and Medical officials determined Johnson was deceased on the scene.
Davenport Police requested assistance from the Sheriff's Office. Polk County Traffic Homicide deputies responded and began investigating. According to reports, evidence at the scene indicated the Nissan was eastbound on Davenport Boulevard (CR 547) at an extremely dangerous high rate of speed.
Investigators determined that as Johnson entered a left curve near Old Holly Hill Road, she left the south (right) side of the roadway. Johnson attempted to recover, but the vehicle began to rotate counter-clockwise across the grass shoulder. The vehicle struck a drainage culvert on the southwest corner of Old Holly Hill Road causing the vehicle to be launched into the air. The vehicle continued airborne across Old Holly Hill Road in a southeasterly direction. It crossed Old Holly Hill Road approximately ten feet in the air and traveled approximately 200 feet airborne, until striking a tree fifteen feet up from the base.
The impact of the collision with the tree was so forceful it ripped the vehicle in half as it continued southeast another thirty feet where pieces of the car struck two more trees. Johnson was seat belted, but the damage to the vehicle was so severe she was ejected and came to rest about ten feet south of the front piece of the car.
Speed was a major factor in this crash. Impairment and distracted driving do not appear to be factors at this time.
Davenport Boulevard was closed for approximately four hours.
The investigation is on-going.