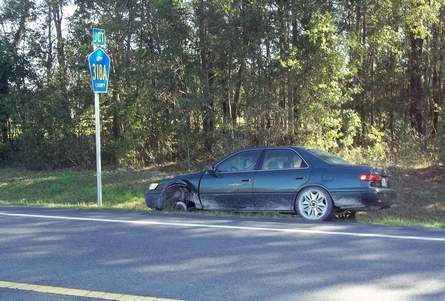 Williston, Florida — According to Williston Police, a wheel broke free from a car and killed an man early this Monday morning, March 2, 2014.
Police said that it was first believed that a tire compressor had exploded and killed the man, but that later proved to be false.
Investigations revealed that Patrick Woodard of Gainesville was driving north on U.S. 41 in a 1999 Toyota at around 9 a.m. As the vehicle approached the Absolute Auto Body shop at 104 NW 10th Avenue, the left front tire broke free from his car and flew north on the west shoulder of the highway.
The tire then hit a driveway apron with such force, it became airborne. It then cleared a 6-foot-tall metal fence and struck Ivan J. Sandquist, 33, of Williston, killing him instantly, according to police.
After striking Sandquist the tire then hit James E. Fender, 45, of Williston. He was airlifted to UF Health Shands Hospital with serious injuries, according to reports..
Williston Police said they were assisted at the scene by the Levy County Sheriff's Office crime scene unit and the Florida Highway Patrol.
Police said the investigation into the accident is still ongoing at this time, and they do not have a cause as to why the wheel broke free from the moving car.