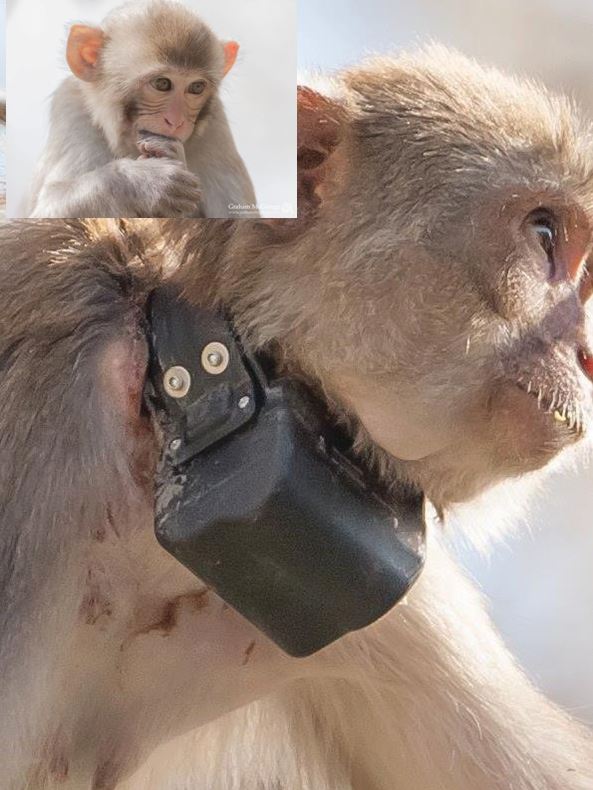 Ocala, Florida — "On Monday, Eleventh Hour For Animals filed a complaint with the USDA demanding a mandatory federal investigation into the secret and potentially illegal "research" conducted by the University of Florida on wild monkeys along the Silver River in Marion County, Florida," Eleventh Hour's Senior Lab Investigator, Karen Kline wrote in an e-mail.
Exclusive images captured by Freelance Photographer Graham McGeorge and published by Ocala Post, depict a wild Macaque with a tracking collar device attached tightly around its neck.
McGeorge said, "When I spotted the Macaque, she was distressed and had distanced herself from the troop, she also had deep wounds and cuts on her neck with blood on its chest."
UF Assistant Vice President , Janine Sikes, told Ocala Post that the tracking collar was removed via electronic signal and that "other than the abrasion caused by the collar, the macaque appeared in good health. The monkey was observed with her group, feeding, grooming, and behaving normally." However, in an e-mail to Kline, the university wrote: "Researchers have attempted to verify the monkey's well-being, but have not been able to locate the monkey since the collar fell off."
In the complaint, Kline states, "Rhesus Macaques have lived along the Silver River for nearly 100 years. Yet, communications with the Department of Environmental Protection demonstrate that UF has taken the position that, since these primates were trapped and brought to this county almost a century ago as an "invasive species" they are entitled to no protection. Eleventh Hour maintains that since the disturbed colony of Macaques was, in fact, born at Silver River, the latest of many generations must be afforded the same protection as indigenous species. In the State of Florida, experiments on wild animals are illegal. Therefore UF's "research at Silver River is illegal."
Kline said the university has been less than forthcoming about the exact nature of their interest in the Silver River Macaques. Therefore, Eleventh Hour has filed two open records requests to ascertain the details of the experiments as well as the source of funding.
Additionally, the group filed a request with the Florida Fish and Wildlife Conservation Commission to secure all licenses that UF may have purchased over the last 10 years.
Kline said, "At the very least, the University of Florida had admitted to and supplied Eleventh Hour with proof of their negligence."