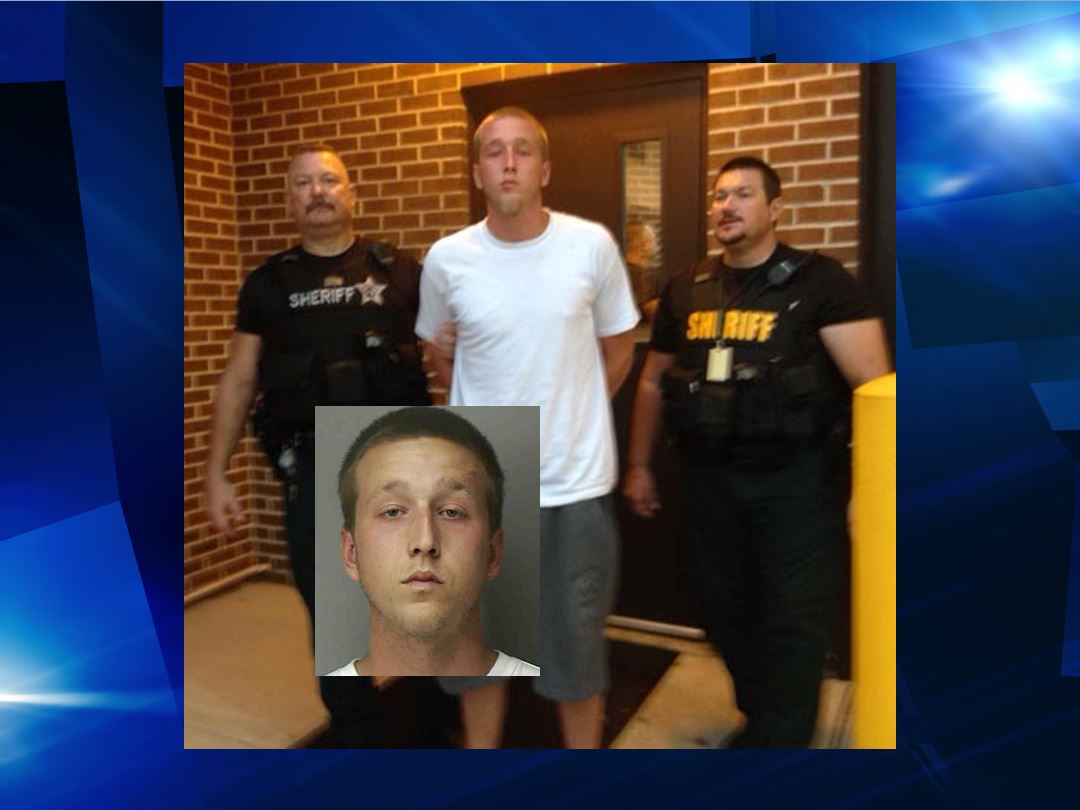 Lakeland, Florida — The Polk County Sheriff's Office has arrested a man who taunted Sheriff Grady Judd and his deputies on Facebook.
On August 20, Northwest District Patrol deputies arrested 21-year-old Logan Hale, who had a Polk County warrant for his arrest for Armed Burglary, Grand Theft of a Firearm, Giving False Info to Pawn Broker, and Dealing in Stolen Property.
According to reports, Hale's warrant was issued on August 13, after deputies positively identified Hale and his accomplice, Tyler Thornton, in an August 3rd armed burglary. During the burglary, the two stole a shotgun and several other items, some of which were later pawned.
On August 13, photos of both suspects were posted on the PCSO Facebook page. Thornton was taken into custody on August 14, 2015. Hale remained at large.
The PCSO then posted a wanted poster of Hale to their Facebook page.
On August 18, Hale, whose Facebook name is Logan "Finallyfree" Hale, took to the PCSO Facebook page and responded to the wanted poster.
Hale wrote, "HELLO here I am."
The PCSO then replied, "You would be wise to turn yourself in."
The PCSO later tagged Hale in a Facebook post and wrote, "Remaining 'at large' is only going to result in your having to change your FB name from 'Finallyfree' to 'Back In Jail' – it would be wise for you to turn yourself in to the nearest PCSO facility. Or give us a call – we'll be happy to provide transportation. 863-298-6200."
Article continued below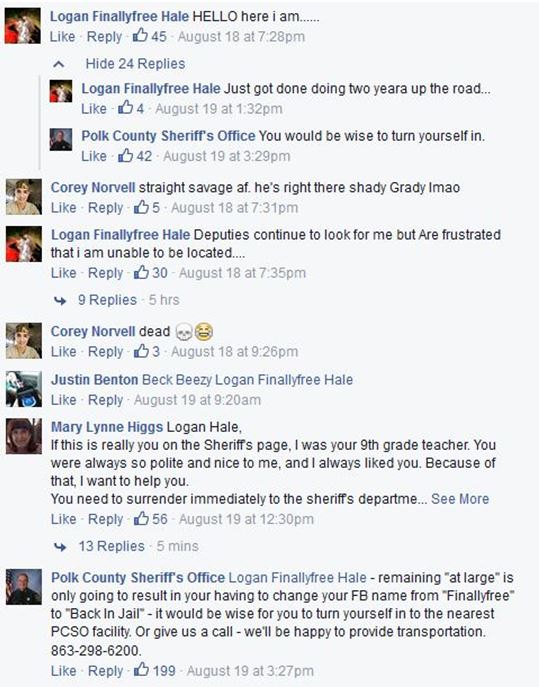 Using various investigative tools, deputies tracked Hale to a residence located at 1347 East Lake Parker Drive, Lakeland. Deputies responded to the residence several times, but the residents of the home claimed Hale was not inside the house.
On Thursday afternoon, deputies again responded to the home. One of the residents, Lauren Hemness, would not allow deputies to search her bedroom. Later the same day, PCSO received information that Hale was inside the residence at the time, but had gone to an unknown location.
Deputies responded back to the East Lake Parker Drive home where they spoke with Hemness and Julianna Lawrence. Both women told deputies that Hale was there earlier when the deputies came looking for him and that they had denied knowledge of his whereabouts and hid him in the bedroom. Lawrence told deputies she later drove Hale to an unknown house.
Article continued below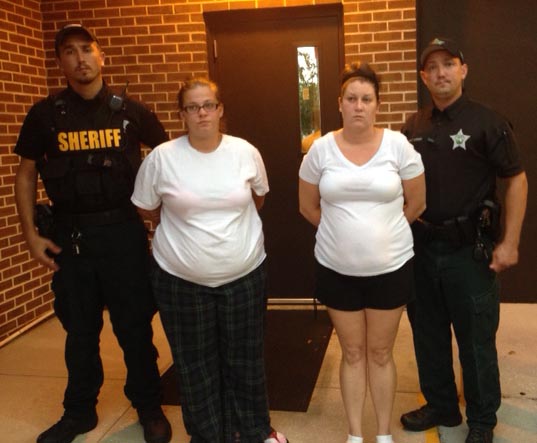 Around 5:00 p.m. two PCSO deputy sheriffs who were actively searching for Hale saw him in the passenger seat of a vehicle driving on Wildwood Drive in Lakeland. The vehicle was stopped and Hale was taken into custody without incident.
According to Hale's family, he was planning on turning himself in, but deputies spotted him before he was able to do so.
Sheriff Grady Judd said, "Logan Hale, you are on your way to jail. Your attempts to hide were to no avail. Maybe you'll make bail. Either way, your Facebook taunts were an 'epic fail.'"
Deputies also arrested Hemness, 24, and Lawrence, 26. They were charged with Giving False Information to Law Enforcement and Interfering with an Investigation.
Hale had just been released from prison.