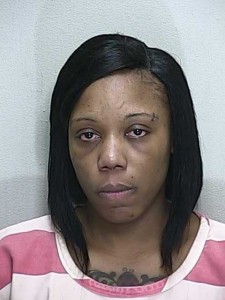 Ocala, Florida — On today's date, April 22, 2014, Ocala Police Officer R. Tuck responded to a call in reference to a domestic dispute.
Upon arrival, Officer Tuck made contact with Whitney Simmons, 24, of Ocala.
Simmons advised that her girlfriend, whom is 17, pepper sprayed her in the face during an argument, but the investigation quickly turned from a Domestic Violence investigation to a Sexual Battery investigation once the officer realized the age difference.
Simmons told police that her relationship with the 17-year-old female is sexual in nature.
The 17-year-old also confirmed that their relationship was sexual in nature.
The 17-year-old stated that she and Simmons began dating nearly a year ago, just one month after turning 17.
When asked what the exact nature of their relationship is and to define "sexual in nature," the 17-year-old told Officer Tuck that she and Simmons used sex toys like "fake" penis's and "strap on" toys, and used them in a sexual manner on each other as well as engaging in other sex acts.
The 17-year-old stated that she and Simmons have had more than 10 sexual encounters during their relationship.
Simmons refused to cooperate with police after she learned she was going to be arrested.
Simmons was arrested and charged with Sexual Battery/Unlawful Sexual Activity with a Minor. She is being held on $10,000 bond.