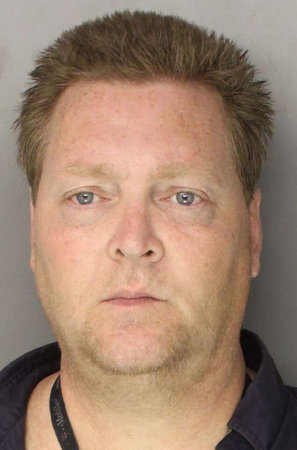 Darby, Pennsylvania — A suspect who was in critical condition after being shot by his doctor, has now been charged with murder after he awoke from sedation on Saturday.
On July 24, 2014, Richard Plotts, 49, shot and killed case worker Theresa Hunt, of Philadelphia, at the Sister Marie Lenahan Wellness Center on the Mercy Fitzgerald Hospital campus in Darby, Pennsylvania. Plotts shot her at point-blank range.
According to police reports obtained by Ocala Post, Plotts was on the third-floor psychiatric office in the Wellness Center, which is across from Mercy Fitzgerald, shortly after 2 p.m. with his case worker.
According to witnesses, Plotts and his case worker went into the doctor's office, and began arguing a short time later. A witness stated that he walked into the doctor's office and saw Plotts pointing a gun at the doctor.
According to reports, the witness then closed the door and called 9-1-1.
Moments later, witnesses stated they heard gunshots.
Another doctor and case worker then forced their way into the room and wrestled the suspect to the floor.
Just before Plotts was wrestled to the floor, the patient's doctor, Dr. Lee Sullivan, dropped behind his desk chair, pulled out his own handgun, and shot Plotts three times in the torso.
The doctor suffered a graze wound after Plotts returned fire.
"Without a doubt, I believe the doctor saved lives," said Police Chief Donald Molineux. "Without that firearm, the patient would have most likely went out into the hallway and shot innocent people until he ran out of ammunition."
According to reports, two guns were retrieved from the scene.
The DA's Office said they believe with certainty that the doctor acted in self defense.
Reports stated that Plotts had a history of being verbally abusive with staff members and has had several "run-ins" with them.
Dr. Lee Sullivan is not being charged with any crime.
The DA's Office stated in a report that the doctor faced a dangerous situation and he did what was necessary to protect himself and his staff.
"If the doctor did not utilize the firearm, he'd be dead today, and I believe that other people in that facility would also be dead," said Jack Whelan, Delaware County's District Attorney.
Mercy Fitzgerald Hospital issued the following statement:
"We continue to pray for the victims and their families. As this is an ongoing investigation, we remain focused on working with the Delaware County Police Departments to understand fully the details of the event and to do all we can to assist those affected."
Authorities said on Monday that Plotts indicated he was p***ed off because there were signs posted on the property that stated "no weapons allowed."
Authorities said they are using Facebook posts created by Plotts to help them understand what transpired on that tragic day.
"We had information to believe there may be very peculiar postings," Whelan said. "Possibly including some in which Plotts calls himself a "potential killer."
Court records showed that Plotts is a convicted felon.
Despite Plotts being a convicted felon, several firearms were also found in his apartment.