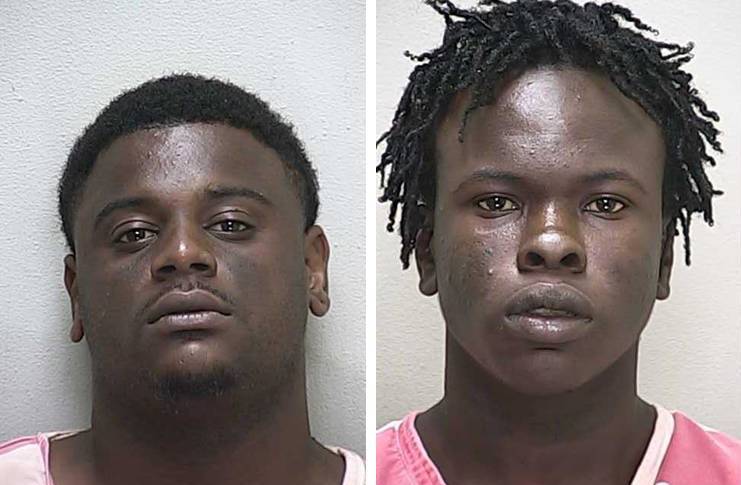 Ocala, Florida — Two men were arrested after being identified as suspects in an armed robbery.
On July 28, 2014, Deputy Wallace responded to the 2000 block of NW 43rd Street (apartments), Ocala.
Upon arrival, the deputy made contact with the victim, whose face was covered in blood and he had several lacerations on his head.
The victim stated that Demetrius Jamal Flowers, 23, and Charles Bess, 19, came over to play XBOX. The victim stated that the pair had been to his apartment before.
According to reports, when the victim closed the door, Bess pulled out a black semiautomatic handgun with a suppressor (silencer) attached to it and struck the victim in the head.
The victim stated that Bess and Flowers began yelling and told him to get on the floor while they were demanding money. Once the victim handed over the money, Bess and Flowers began taking the victim's XBOX, along with other electronics and placed them by the front door.
Bess and Flowers then ordered the victim into the back bedroom where they made the victim lay face down on the floor after striking him in the head again. They covered the victim's head with a blanket and told him if he moved, he would be shot.
The duo then tied the victim's feet together with tape and his hands behind his back.
After the victim was secure, they loaded up the electronics into a vehicle belonging to the victim's mother and fled the scene.
Bess and Flowers were located on July 29, 2014 and arrested.
On the day in question, Flowers told investigators that he was playing basketball all day and didn't know anything about the robbery.
Bess refused to cooperate with investigators.
Both suspects were identified in a photographic line up.
Bess was adjudicated delinquent on September 14, 2011, for Armed Trafficking in Oxycodone and Possession of Marijuana With Intent to Sell Near a School. He was only 16-years-old at the time.
Flowers was charged with Robbery With a Firearm and is being held on $50,000 bond.
Bess was charged with Robbery With a Firearm, Possession of a Weapon by a Delinquent, and Possession of a Weapon by a Felon.
Bess is being held on $75,000 bond.
The victim was treated for his injuries.
Please follow and like us: