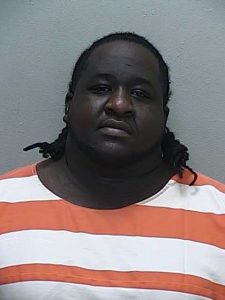 An Ocala man was arrested after taking a Marion County Detective on a chase to grandma's house.
On September 10, 2013, around 3:00 p.m., a Marion County detective observed a beige four-door Buick driven by Courtney Lamar Carpenter, 31, of Ocala run a stop sign at SW 23rd Avenue and SW 7th Street.
As the vehicle turned eastbound onto SW 7th Place the detective activated his emergency lights in an attempt to conduct a traffic stop on Carpenter.
According to reports, carpenter then took off, crossing over into oncoming lanes. He drove between a mailbox and a fence, crossed two driveways, and drove between trash cans and a parked car.
He then entered the roadway again crossing back over the westbound lanes and continued eastbound on SW 7th Place. The chase continued for several more blocks as Carpenter made multiple turns while running three stop signs according to an arrest affidavit.
The chase came to an end after Carpenter pulled into a driveway at the 500 block of SW 23rd Avenue.
The detective and another deputy approached the vehicle as Carpenter jumped out and began shouting at them. Carpenter was repeatedly ordered to the ground in which he would not comply forcing the detective and deputy to physically put him on the ground. He continued to resist arrest as the handcuffs were being placed on his wrists, according to an arrest affidavit.
Carpenter later uttered that he knew what he did was wrong, and he should have stopped but didn't because he wanted to go to his grandmother's house.
Carpenter was booked into the Marion County Jail on charges of Fleeing to Elude a Law Enforcement Officer and Resisting an Officer without Violence.
He is currently out of jail on a $5,500 bond.