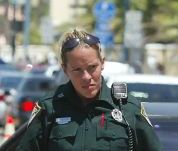 New Smyrna, Florida — Following an internal investigation that resulted in the sustaining of several departmental policy violations, Sheriff Ben Johnson has fired Deputy Stephanie LeClerc. Deputy LeClerc, 37, was served with the notice of termination on November 21, 2013.
Deputy LeClerc has been on administrative leave with pay since October 9, 2013, for suspicion of DUI. The marked patrol unit she was driving was being followed and recorded by a witness after LeClarc was spotted driving in a very erratic manner.
LeClerc was driving her marked patrol car drunk and had a 7-year-old child in the front passenger seat.
LeClerc was arrested for DUI and transported to District five for DUI processing, where she refused to submit to a breath test even after she was read complete implied consent warnings.
She was booked into the Volusia County jail and released on bond several hours later.
LeClercs' relationship to the child was not released to the media.
She has been charged with DUI and Child Neglect.