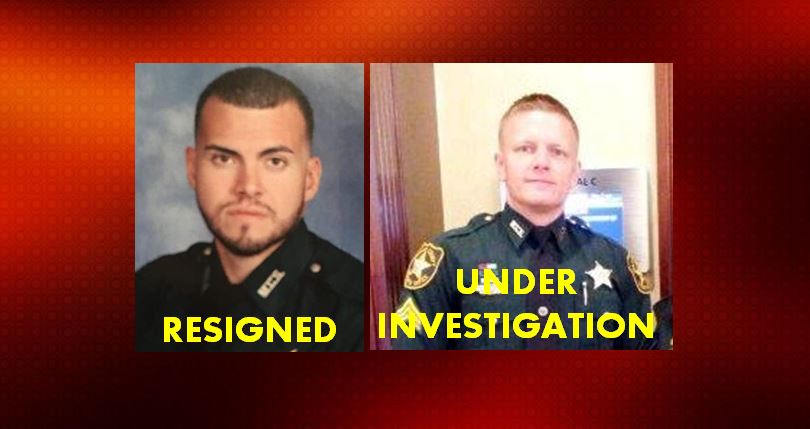 [Last updated on February 25, 2016, at 6:30 p.m.]
Ocala, Florida — The State Attorney's Office has completed an extensive investigation into cases involving former Marion County sheriff's deputy Eduardo Bustamante.
The investigation involved multiple use-of-force complaints and falsified arrest reports.
In one of the alleged use-of-force cases, Bustamante was accompanied by Sergeant Ben Adams. MCSO said that Sergeant Adams will now face an Internal Affairs Investigation to determine if he himself did anything wrong. It should be noted that Sergeant Adams is not suspected of any wrongdoing at this time.
According to a document written by State Attorney Brad King, the State Attorney's Office cannot accept any of Bustamante's testimony in criminal cases…18 to be exact.
King wrote, "While the vast majority of law enforcement officers are honest, trustworthy individuals who do hard, and often dangerous work, we cannot ignore the fact that there have now been over a dozen Marion County deputy sheriff's who have been convicted, indicted, fired, demoted, suspended, or are currently under investigation for actions that involve, in part or in whole, false reports or testimony."
The State Attorney's Office provided a copy of the findings to MCSO and the FBI.
According to the report, "any cases where Deputy Bustamante's testimony in not substantiated by independent evidence"  will be dropped, and no further cases involving Bustamante will be accepted.
In a press release, Sheriff Chris Blair said, "Of the dozen MCSO employees that have been involved in some form of trouble for providing some sort of false information, it is important to note that nearly all of those cases (9 of the 12) were self discovered by the MCSO through our customary case review process and nearly half of those individuals came from a single case. Moreover, in each of those cases which we discovered any employee misconduct it was the MCSO that brought the matter to the public's attention and took swift disciplinary action on the deputies involved.
Prosecutors said they are also concerned about the fact that some of the use-of-force complaints, and other problems with Bustamante's behavior, never made it into the deputy's personnel file.
MCSO said that they were not aware that Bustamante was being investigated by the FBI, but Chief Assistant State Attorney Ric Ridgway said that the FBI contacted MCSO two separate times and notified them that Bustamante was under investigation for the use of excessive force. Ridgway also said that MCSO was aware that the State Attorney's Office was reviewing Bustamante's file.
"We subpoenaed Deputy Bustamante's personnel file, and all of his videos in November," Ridgway said.
Blair said, "I am extremely disappointed and disheartened to receive information in reference to former Marion County Sheriff's Deputy Eduardo Bustamante from the State Attorney's Office. As it was mentioned by State Attorney Brad King in his statement, "the vast majority of law enforcement officers are honest, trustworthy individuals who do hard and
often dangerous work."
Bustamante has since resigned.
The FBI will now be looking into the cases.
You can view the full report from the State Attorney's Office here.