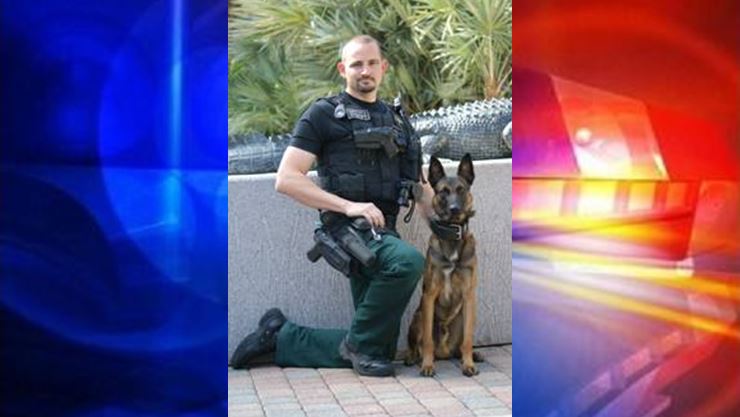 An internal investigation into the heat-related death of Alachua County Sheriff's Office K9 Robbie, at the home of his handler, Deputy Sheriff Tommy Willcox, is now complete.
K-9 Robbie, a Belgian Malinois, was discovered in the back seat of Deputy Tommy Willcox's car on July 8, 2016.
According to AccuWeather, it was approximately 94 degrees in Gainesville on the day that K-9 Robbie died.
On the morning of Robbie's death, Deputy Willcox and K-9 Robbie had responded to assist the Gilchrist County Sheriff's Office with a suspect wanted in a homicide investigation in Leesburg, Florida.
When Deputy Willcox returned home, he forgot that the K-9 was in the back seat of his patrol car. By the time Willcox realized he had forgotten the dog, it was too late.
According to ACSO Public Information Officer Art Forgey, in 2008, Deputy Willcox euthanized his personal dog, which was a retired ACSO K-9, by shooting it. Willcox told his superiors that he shot and killed the 13-year-old dog because it was in poor health and was suffering.
The internal investigation into K-9 Robbie's death states that Deputy Willcox violated department policy involving — Performance of Duty, Neglect of Duty, and Driving.
The reports states, "After careful and thorough review of the facts contained within this investigation, and recommendations made by supervisors and commanders within Deputy Willcox's chain of command, Sheriff Darnell has sustained these violations and determined appropriate disciplinary sanctions to include a suspension of six (6) working days without pay; a three (3) month disciplinary probation period; and removal from the Canine Unit are warranted."
Citizens immediately turned to social media to express their disappointment with the outcome of the investigation.
Citizens are concerned about the double standard that the outcome of this investigation has demonstrated.
Citizens say that if a deputy had responded to the same call involving a civilian, that civilian would have been arrested and charged with Animal Cruelty.
The ACSO said that people should not rush to judgment and realize how much officer Willcox loved K-9 Robbie.
However, citizens argue that no civilian would be able to use the excuse that "it was just an accident and I love my dog."
Willcox said, "I spent more time with my dog than my Wife and kids."
The ACSO said "[We] will be installing additional electronic safety features to all K9 Patrol Vehicles, to supplement existing electronic and physical safety mechanisms already in place, in order to prevent this from occurring again in the future."
We want to hear from you. Do you think there is a double standard when it comes to prosecuting law enforcement officers for crimes that would have "earned" the average person a trip to jail?