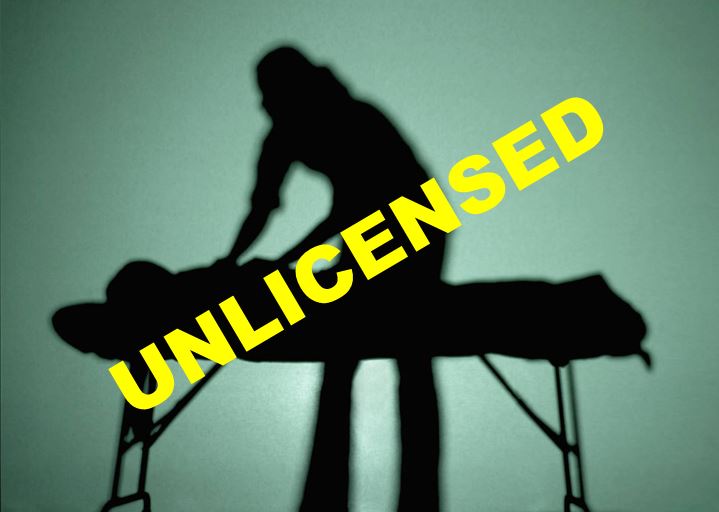 Florida — The Florida Department of Health, with support from local law enforcement agencies, carried out Statewide Operation Trigger Point May 13 through 15. The operation to stop the dangerous practice of providing health care without proper licensure culminated in 64 cease-and-desist notices served to individuals and establishments practicing massage or operating a massage establishment without a license. Providing health care without a license is a felony-level criminal offense in many instances.
Officials said that treatment by an unlicensed provider is dangerous and could result in further injury, disease, or even death. Notices were served on the following subjects:
•Allegria Therapeutic Massage, Pensacola
•Amanda Lynn Blocker, Pensacola
•Amazing Day Spa, Orlando
•Amberly Lynn Summerville, Jacksonville
•Asian Glamour Massage, Boynton Beach
•Beyond 2005, Sarasota
•Carolyn Mankowski, Boca Raton
•Carolyn Mankowski (massage establishment), Boca Raton
•Chinese Traditional Massage, Plantation
•Chunfeng Li, Brandon
•Cui Bin, Orlando
•Danielle De Vries, Jacksonville
•Danielle Reyes, West Palm Beach
•Danielle Reyes (massage establishment), West Palm Beach
•Dennis Obee, Delray Beach
•Edith Zoroya, West Palm Beach
•Edith Zoroya (massage establishment), West Palm Beach
•Extravagant Pampering, Fort Lauderdale
•Florence Schiro, Brandon
•Frank Tomaselli (massage establishment), Gulfport
•George Achenbach, Stuart
•Gisela Ignaszewski, West Palm Beach
•Gold Sauna, Sarasota
•Gretchen Myers, Boca Raton
•Heather Walker, Sebastian
•Heather Walker (massage establishment), Sebastian
•Herbs & Things, Pensacola
•Hong Kong Massage, Orlando
•Jian Dong Wang, Orlando
•Jing Jing Spa, Fort Lauderdale
•Johnna Swanfeld, Boca Raton
•Johnna Swanfeld (massage establishment), Boca Raton
•Joy Foot Spa, Orlando
•Karen Lynn White, Jacksonville
•Krista Gable, Miramar Beach
•Laurie Ann Neeld Dino, Pensacola
•Lei Song, Orlando
•LG Massage Therapy, Orlando
•Marco A. Braga (massage establishment), Lake Worth
•Margo Hart, Palm Beach Shores
•Margo Hart (massage establishment), Palm Beach Shores
•Massage Alive, Bradenton
•Mehwish Riaz, Fort Pierce
•Mehwish Riaz (massage establishment), Fort Pierce
•Moda Hair Design and Spa, Davie
•Niazhen Zhao, Orlando
•Ping Hau Li, Boynton Beach
•Rachel Rose (massage establishment), Delray Beach
•Revitalize Spa, Bradenton
•Samantha J. Stanley, Bradenton
•Second Sun Beauty Hut, Brandon
•Shupon Nakia Steele, Tampa
•Snuggle Spa, Jacksonville
•Stephani Katrina Fulmer, Jacksonville
•Sunflower Massage, Orlando
•Sungcha Stelle, Sarasota
•Sunset Spa, Brandon
•Teddi's Place, Bradenton
•Xiaoli Yang, Orlando
•Xu Xiangrong, Orlando
•Yanting Li, Plantation
•Yifei Fu, Fort Lauderdale
•Yuan Yuan Gao, Orlando
•Zhu Shun Xu, Sarasota
The department's Division of Medical Quality Assurance Unlicensed Activity (ULA) Program, under authority of Florida Statute 456.065, protects Florida residents and visitors from the potentially serious consequences of receiving health care services from an unlicensed person. The ULA program investigates all unlicensed health care activity complaints and allegations, and works in conjunction with law enforcement and the state attorney's offices to prosecute individuals practicing without a license.