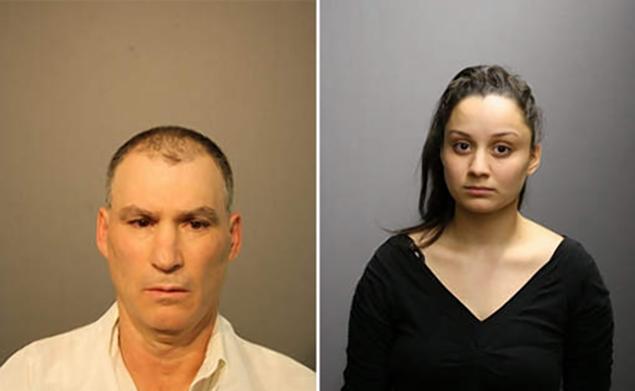 Cook County, Chicago — Daisy Gutierrez, 19, enticed Jose Reyes Ramos, 30, to come to her home, located in the 8300 block of South Scottsdale Avenue, on a promise she would perform a strip tease for him back in May 2013.
Gutierrez had told her family to leave the home while she invited Reyes, who had recently shown an interest in her, over for a visit.
When Reyes arrived at Gutierrez's home, she led him into a bedroom where she began to strip, according to reports. As she was stripping, Gutierrez's current boyfriend kicked in the door and attacked Reyes with a pipe, and a knife which was used to slit his throat. Gutierrez's boyfriend then decapitated Reyes.
After murdering Reyes, Gutierrez called her father, Salvador Gutierrez, 56, and told him "she had fixed the problem," according to authorities.
Gutierrez's father then returned to the home and spent three hours digging a hole in the backyard after watching Gutierrez's boyfriend dismember the body piece by piece. After dismembering the body, they placed the body parts into plastic bags, threw them into the hole, and buried them.
Gutierrez's ex-boyfriend, Jorge Moncada Ramos, told police he immediately suspected his ex-girlfriend when his brother Reyes went missing.
Jorge Moncada Ramos had broken up with Gutierrez after a long relationship in which they had two children. Moncada told police that Gutierrez began stalking his brother after he changed his number.
Moncada also told authorities that Gutierrez, as well as her family, were angry over the breakup and had threatened to kill him in the past.
According to authorities, Gutierrez used Reyes to make her current boyfriend jealous and wanted Reyes murdered to get revenge on Moncada for breaking off the relationship with her.
On Friday, October 4, 2013, authorities executed a search warrant on the home where it was suspected that Reyes was buried. The dismembered body of Reyes was discovered after five months of being buried on the property.
Daisy Gutierrez was arrested and charged with First Degree Murder. She is being held on a $2 Million bond. Her father, Salvador Gutierrez, was charged with Concealing a Homicide and is being held on a $500,000 bond.
Daisy Gutierrez's boyfriend, whose name has not been released due to pending charges, is still on the run. He is reported to be hiding out in New Jersey.