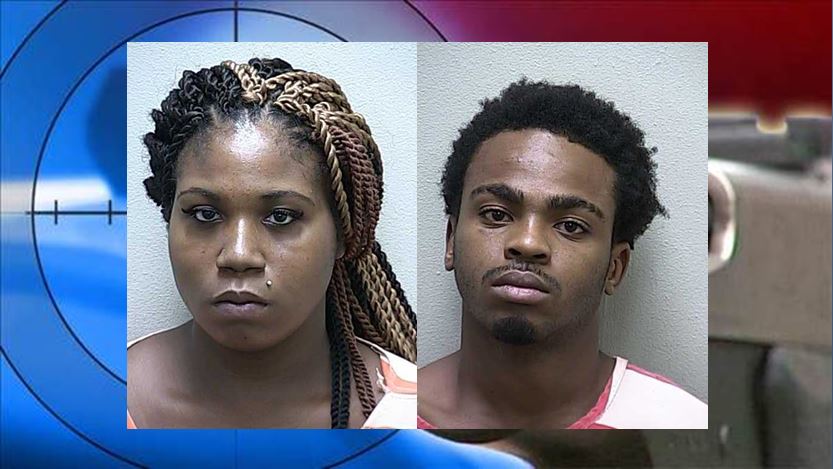 Ocala, Florida — Two people were arrested for their involvement in the shooting of another Ocala man on Monday.
It all started when Ocala police responded to 1005 Southwest 2nd Street, after receiving reports that a man had been shot in the leg.
According to reports, the victim had been in an ongoing feud with the suspect, later identified as Darion Jordan, 24. The feud was due to the fact that Jordan had hit the victim's wife.
A witness told police that on October 12, Jordan pulled up in front of the victim's house while the victim was standing outside. Jordan then engaged in a verbal argument with the victim.
At some point during the argument, the victim reached into the car and attempted to pull Jordan through the window.
That is when Jordan's girlfriend, Chermagne King, 28, exited the vehicle and jumped on the victim. The victim was shot during the scuffle.
A witness stated that while King was attacking the victim, Jordan shot him with a semi automatic handgun.
After the shot was fired, King got back into the vehicle and Jordan drove off. A bolo was then issued for a green Toyota Camry.
The two suspects also had their 4-month-old baby in the car at the time of the shooting.
According to reports, the vehicle was located near the intersection of Southwest 13th Street and Southwest 33rd Avenue, at which time both occupants were handcuffed due to a firearm being involved.
While they were being questioned, the baby started to cry and King asked if she could comfort the child.
Ocala Police Officer Sergeant Hay told King that she would have to "pat her down" for weapons before she could remove the handcuffs.
Sergeant Hay reported that during the pat down she felt a "bulge in the area of [King's] crotch."
King then stated, "It's marijuana."
Sergeant Hay then removed a plastic bag from inside King's underwear that contained 18 grams of marijuana.
At the police station, King stated, "Yeah, the marijuana was in my underwear, but it doesn't belong to me."
Jordan was uncooperative during questioning.
He was arrested and charged with Aggravated Assault with a Firearm and Possession of a Firearm by a Convicted Felon. He is currently being held on a $20,000 bond.
Jordan has previous arrests for Distribution of Marijuana, Operating a Vehicle Without a License, and Aggravated Assault with a Deadly Weapon.
He was just released from prison in September 2014, after serving a sentence for Aggravated Assault with a Deadly Weapon.
King was arrested and charged with Possession of Marijuana. She is currently being held on a $500.00 bond.
She has previous arrests for Resisting arrest and Battery on a Law Enforcement Officer (x2).
The Department of Children and Families was notified of the situation.