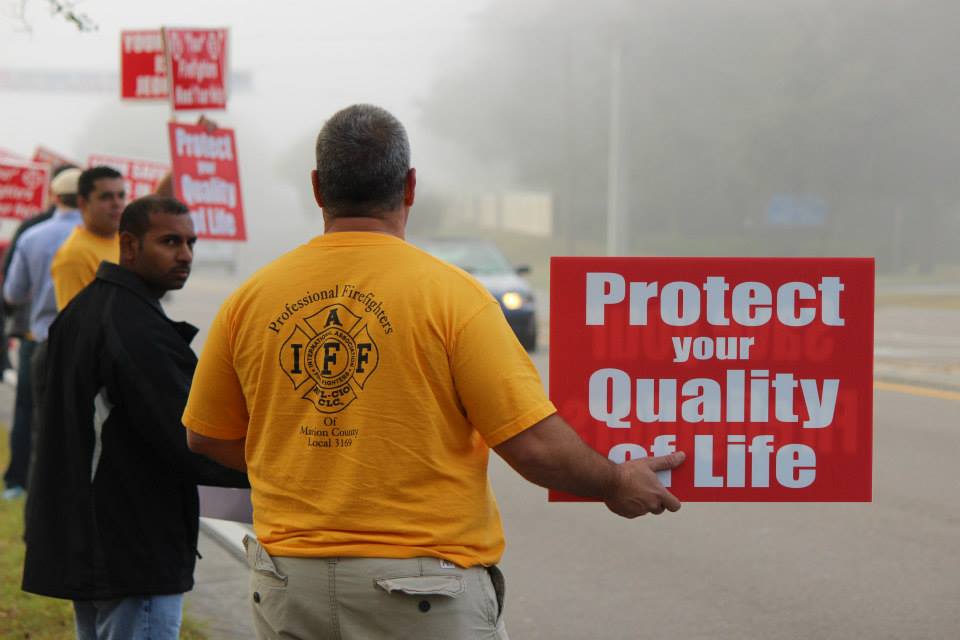 Ocala, Florida — In an e-mail to county commissioners and Marion County Fire Rescue employees, fire chief and assistant county administrator Stuart McElhaney announced to the agency that the county commissioners have directed staff to hold the line on taxes and look for ways to re-prioritize spending to direct more revenue to the ambulance service. However, McElhaney admits in the same e-mail, the move could cost the agency more money.
Particularly, the county is looking at turning over control of basic life support inter-facility transports and EMS standby services at events like rodeos and sporting events currently provided by the county over to private companies. These inter-facility transports McElhaney refers to are ambulance transports between different hospitals and from nursing homes to emergency rooms.
"These standby services are particularly stressful to both our budget and staffing plan; even more so during our current staffing shortage," McElhaney wrote. McElhaney has said in recent reports that Marion County Fire Rescue is 60 firefighters and paramedics short. This is due to an exodus of skilled senior firefighters and paramedics leaving Marion County for other fire departments that have higher pay and better benefits. The issue is made worse by budget cuts over recent years that have led to three years of deficit spending.
McElhaney added, "While this would mean a potential loss of revenue, it would have the net effect of freeing up one complete ALS ambulance crew on a 24/7 basis."
In layman's terms, the commission, namely Commissioner Stan McClain, is going to great lengths to avoid budget increases for MCFR by privatizing certain fire rescue services. However, the privatization and loss of revenue would only free up one ambulance crew. A reasonable person could conclude that it hardly seems worth the effort.
There has been speculation that Leopard Transport, owned by retired MCFR division chief Tracey Lefevre, would benefit from the privatization. Lefevre also has close ties with Commissioner Carl Zalak.
The amount of revenue the agency might lose was not identified by county commissioners.
"The loss of revenue would most likely come from the inter-facility transports," stated Ryan O'Reilly, secretary and public relations director for the Professional Firefighters of Marion County. "Inter-facility transports are a major source of revenue for the department. Our association has obvious concerns because without this revenue the tax payers will have to bear even greater responsibility for funding a department already in deficit spending."
O'Reilly explained to the Ocala Post that these transports provide guaranteed revenue by billing medical insurance companies for the use of the ambulance and is really the only profit generating aspect of emergency medical services. Emergency ambulance transports called in through using 911, however, may or may not be recouped through the billing process. It depends if the individual user pays the bill.
"There are many people in this county who have limited options and may be unable to pay the user fee for the ambulance," O'Reilly said. "This is the last thing on their mind when faced with a potentially life threatening emergency. But that's what it means to be part of a community; that we take care of each other."
McElhaney in his memo notes that the decrease in property taxes designated for the ambulance service is part of the issue, stating that the county collects around half as much in taxes for the ambulance service as the agency did when MCFR began providing countywide EMS protection in 2008.
"When the county began providing ambulance transport services exclusively through the fire department, they did it more efficiently, improved upon response times, and saved the taxpayers money," O'Reilly said, adding that years of budget cuts have led to the department's struggles.
"It is our hope that the County Commissioners take a hard look at the real financial impact of privatizing this aspect of the ambulance service before making a decision," O'Reilly stated. "The fire department is already in a state of crisis and any knee jerk decision may have detrimental consequences to a struggling budget."
The county commissioners will consider this issue over the summer through September during budget workshops. The county commissioners are also having the department redesign a strategic five-year plan for Marion County Fire Rescue after rejecting staff's five-year plan last year.
That plan called for adding five additional 24-hour staffed ambulances and one additional 24-hour ambulance a year for the next four years to help adjust for increasing demand for the Fire Rescue services. The plan was rejected because it called for an increase in revenue and staff for the fire department.
The last time Marion County Fire Rescue operated under a strategic plan was in 2011 when a 10-year strategic plan expired.
Commissioners make privatization sound like it's a winning situation, when in actuality it would reduce the standard of care and create a reduction in services. Why? Because privatized companies do not have to follow the same guidelines as government agencies do.
If the guaranteed revenue for MCFR is taken away, Marion County residents will no longer reap the benefits of the offset of taxes the revenue creates. Furthermore, privatization will endanger the lives of Marion County residents.
Even more sickening to firefighters than privatization, is the fact that McDonald's owned restaurants could soon pay its employees $15 per hour. Meanwhile, those in a skilled career who put their lives on the line everyday, continue to suffer.
If residents would like to learn more, join volunteer firefighter Samuel J. Matychak III, at 2:30 p.m., April 14, at the Marion County Fire Rescue Administration Building for the Marion County Fire Advisory Board quarterly meeting.
"This meeting is open to the public, let's fill the meeting up and let our voices be heard," Matychak said.
You can read the letter drafted by Commissioner Stan McClain here.