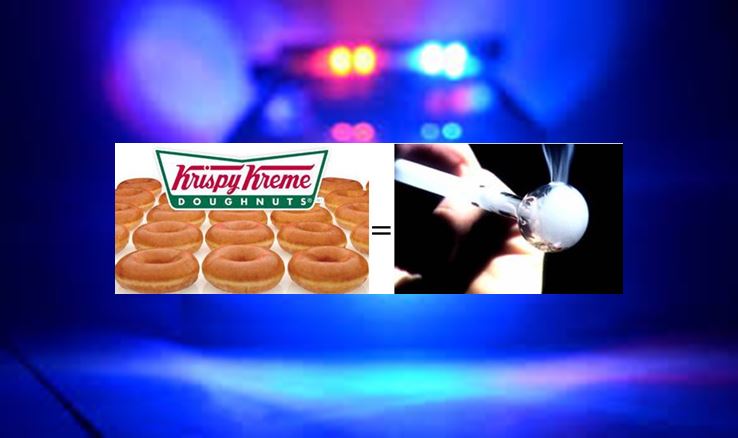 Orlando, Florida — Two Orlando police officers arrested a man for eating a Krispy Kreme doughnut in his car.
On December 11, 2015, Daniel Rushing, 64, was pulled over after he left the 7-Eleven store at 938 W. Colonial Drive. This information is just now being released to the media.
Rushing stated that he stops for a Krispy Kreme doughnut every other week as a treat for himself.
After officers pulled him over, they asked Rushing for his identification. When he opened his wallet, Officer Cpl. Shelby Riggs-Hopkins saw that Rushing had a concealed weapon permit and asked him to step out of the car.
Once out of the vehicle, she said she spotted "a rock-like substance on the floorboard where his feet were."
Riggs-Hopkins stated that she tested the "rock," which was actually doughnut glaze, and it tested positive for methamphetamine.
At first, the officers said the glaze was rock cocaine. Later, they changed their story and said it was crystal meth.
Rushing tried to tell the officers it was icing from a doughnut, but they would not listen. He said they treated him like a common criminal.
According to Rushing, Riggs-Hopkins was also a little "cocky."
Riggs-Hopkins, said, "I recognized through my eleven years of training and experience as a law enforcement officer the substance to be some sort of narcotic."
In an email, FDLE said an analyst in its Orlando crime lab did attempt to identify what police found in his car.
"The analyst checked to determine whether it was an illegal drug and was able to confirm that it was not."
The presumptive roadside tests that law enforcement use is not accurate, according to experts. To prove a point, one attorney tested oregano and it tested positive for THC. In fact, the test is so unreliable, that more than 45 percent of the roadside tests give a false positive.
This is not the first time that an innocent person has been jailed in Florida on fraudulent drug charges as a result of these unreliable tests giving a false positive. Court records show it happens a lot.
OPD said they do not keep track of how many times an arrest has resulted in exoneration as a result of the unreliable tests.
OPD actually called Rushing's arrest "a lawful one" and stood by their drug testing methods.
Records show that Rushing was charged with Possession of Methamphetamine with a Firearm.
Rushing was held for 10 hours before he was released from the Orange County Jail on a $2,500 bond. His charges were later dropped.
According to the Federal Drug Administration, the presumptive roadside tests are not government-approved for use. The FDA said that they do not in any way endorse the use of the tests and that law enforcement officers should never rely on the test results if the test is used to arrest an individual.
This is just one of the thousands of cases in Florida.
Rushing has since retained an attorney.