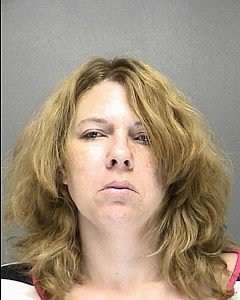 New Smyrna, Florida — On December 16, 2013 at approximately 1:38 p.m., a witness contacted the Volusia County Sheriff's Office and advised she observed an intoxicated person operating a motor vehicle with a juvenile inside. The witness stated she pulled into the Walmart parking lot at 3155 SR 44, New Smyrna Beach and parked next to a red two door passenger car.
According to the witness, she observed a female occupant of said vehicle, later identified as Christy Bostic-Petrain, 38, fumble with her seat belt, pulling and twisting it.
According to reports, Bostic-Petrain then lit a cigarette backwards and tried to smoke it. The witness stated she could smell the distinct odor of the filter burning. After Bostic-Petrain smoked the cigarette, she began drinking a beer, according to the witness.
The witness monitored Bostic-Petrain and watched her sit in the vehicle, as if she were waiting for a friend to exit the store. As witness watched, a young boy walked out of the store and got into the vehicle with Bostic-Petrain.
The witness stated Bostic-Petrain then drove out of the parking lot at a high rate of speed and turn east onto SR 44. Before the vehicle fled the scene, the witness was able to obtain the vehicle's tag number. The witness was unable to follow Bostic-Petrain, due to her erratic driving through the parking lot.
Deputies and New Smyrna Beach Police Officers canvassed the area for the vehicle.
New Smyrna Beach Police Officer Jones located the vehicle in the 2300 block of SR 44, New Smyrna Beach, as it traveled eastbound. Officer Jones advised he was behind the vehicle and observed it swerving in the inside lane, crossing over the lines.
Officer Jones immediately conducted a traffic stop due to Bostic-Petrain's erratic driving and to avoid her causing a car accident.
According to reports, Bostic-Petrain did have a young boy in the car with her.
Reports also indicate there were in fact alcoholic beverages in the car as the witness told dispatchers.
Bostic-Petrain failed her field sobriety test and consequently was arrested. Bostic-Petrain was charged with Child Neglect and DUI.
Officials say the witness kept the possibility of an accident from happening.
The child was released into the custody of his father and the Department of Children and Families was notified.