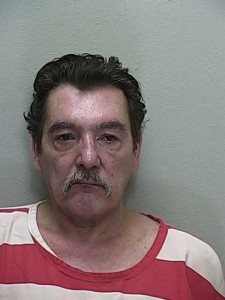 Ocala Florida — An arrest was made by the Marion County Sheriff's Office on November 12, 2013, after a man allegedly molested a 91-year-old woman.
According to reports, the staff of Emeritus House at Ocala West, notified authorities stating that Charles W. Messina, 63, was visiting an elderly dementia patient in the Memory Care Unit of the facility and had sexually assaulted her. A staff member told investigators that when they [Staff] were walking passed the victims room, they heard her say "Stop that hurts", so she entered the room. The employee stated that when she entered the room the lights were off and when she turned them on, Messina was standing on the right of the victims' bedside with his hand on her vagina, skin to skin.
During a taped interview with investigators, the employee stated that she observed Messina walk into the facility wearing a white t-shirt, black basketball type shorts, and white tennis shoes. She said that he wears the same thing every time he shows up to visit and always comes when the reception desk is closed and never signs in, according to reports.
The employee told authorities that when she walked in and observed Messina touching the victim on her vagina, she asked him what he was doing and he said that he was changing the victim's depends. Investigators say the employee said that when she checked, there was no depends in the trash can and the one previously worn by the victim was at the foot of the bed, under the blanket and was not soiled.
According to reports, the victim then told the employee not to leave her alone with Messina again and that she did not want him to visit anymore.
When investigators interviewed Messina about the allegations, he stated that he did go visit the victim at the time in question. He also stated that he was trying to change the victims depends because the one she was wearing was soiled. Messina told investigators that after he retrieved a new one from the restroom, he began changing the victim and that's when the nurses walked in.
When asked about the lights being off, Messina stated that was not true. He advised that the television as well as the bathroom light were both on, according to investigators. Messina also stated that he had changed the victim's depends in the past and that he placed the soiled one in the trash. Reports show that a search of the victims room did not turn up a soiled depends in any waste basket.
Messina was arrested and booked into the Marion County Jail on one count of Lewd and Lascivious Molestation of an Elderly or Disabled Person.
He has since been released on a $10,000 bond.