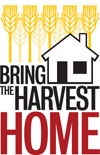 Marion County food pantries are facing nearly bare shelves, having seen an estimated 25 percent increase in the amount of new families requesting help with groceries. And while new face after new face has shown up at Brother's Keeper, Interfaith and the Salvation Army, donations have dwindled. This has left our food pantries in a dire spot – and vulnerable to not being able to assist area residents who need help putting food on the table.
On Nov. 5, a team of local governmental, fire rescue and law enforcement agencies re-launched the "Bring the Harvest Home" food drive to help re-stock these depleted food pantries and provide aid for Marion County's most needy residents. Officials are asking citizens and businesses to assist the efforts by collecting and donating items to local food pantries as follows:
Dry goods/foods that complement dry goods (rice, pasta, pasta sauce, cereal, crackers, peanut butter and jelly).
Canned meats (corned beef, corned beef hash, ham and tuna).
Canned vegetables and fruit.
Baby items (powdered formula, diapers and lotion).
Toiletries (soap, shampoo, deodorant, toothbrushes, toothpaste and toilet paper).
The month long effort will culminate with a Dec. 6 Holiday Food Drive on the Square in downtown Ocala from 7 a.m.-3 p.m.
The first "Bring the Harvest Home" food drive was held in 2011 and netted more than 80,000 pounds (40 tons) of food and toiletries donations. Partner agencies this year include: Marion County Board of County Commissioners, City of Ocala, Marion County Clerk of the Court, Marion County Property Appraiser, Marion County Sheriff's Office, Marion County Supervisor of Elections, Marion County Tax Collector, Ocala/Marion County Chamber & Economic Partnership and the Dunnellon Police Department.