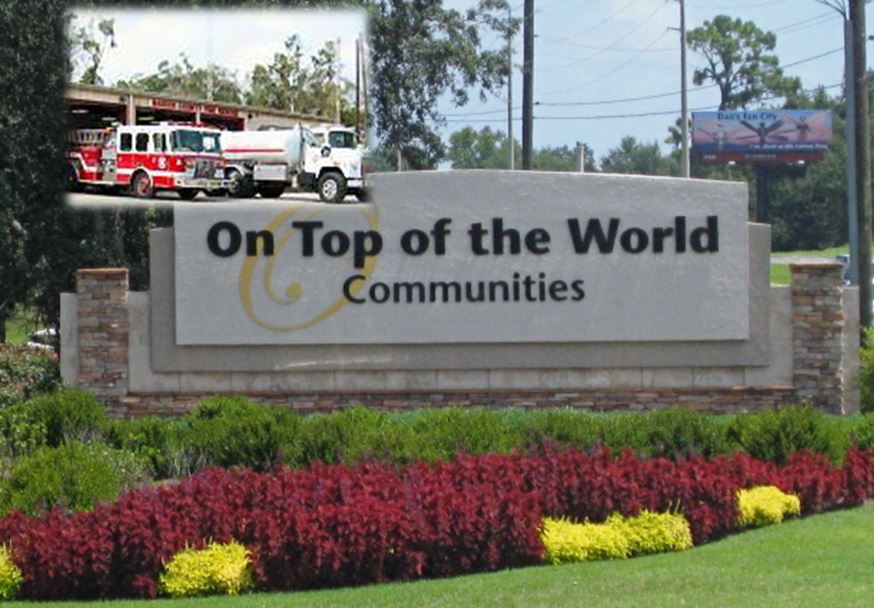 Marion County — Staffing levels at Marion County Fire Rescue station 21 are to return to normal on May 16 after citizens from On Top of the World and the surrounding areas made phone calls, sent emails, and went to county commission meetings to raise concerns over the reduction of services.
In March, due to staffing shortages and deficit spending, MCFR decided to reduce the number of firefighters and paramedics at station 21, located near the influential OTOTW community, and station 16, located between Ocala and Belleview. Both stations had firefighters with advanced training in technical rescue and HAZMAT mitigation.
Once this decision was made, union leaders with the Professional Firefighters of Marion County began negotiating with the county to bring staff levels and services back to these areas.
"We are happy that we were able to work with county managers to bring back staffing levels to these areas even though it took two months of negotiating," said Ryan O'Reilly, Public Relations Director for the Professional Firefighters.
"In the end this is a victory for the citizens," O'Reilly added. "They saw the need and pressed their government to make a change. It really shows that when regular people speak up, they can make a difference."
As part of the deal crafted between the Professional Firefighters and the county, the county will look into the staffing levels at station 16 in a few months.
Even though the staffing levels are coming back, O'Reilly cautioned that the county is not out of the woods yet.
"In the short term, there is going to be a greater burden on the overtime budget as the county simply does not have enough firefighters and paramedics to fill all the spots," he said.
Currently, the department needs more than 60 firefighters and paramedics to bring staffing levels up county-wide. This number increases daily as firefighters continue turning in their resignations at an alarming rate.
Just last week, Ocala Post reported that 10 senior firefighters had recently left MCFR, taking with them a combined total of 89 years of experience and millions of dollars of training. Additionally, MCFR is still millions of dollars in deficit spending, and fire-based ambulances from all over the county are still pouring into the city of Ocala on a daily basis to cover medical emergencies for those citizens.
Residents out in OTOTW have recently questioned how long the staffing levels would remain at their station as long as these ongoing issues persist.
Initially, Deputy Fire Chief Paul Nevels stated that the reduction in staff at these stations would not lead to a reduction in service to those citizens, since the move was only temporary.
However, official documents gathered by the Ocala Post showed that these statements were less than accurate. Nevels stated in an official document that there was no plan to bring the staff back. And in a county document called "Emergency plan to reduce staffing levels," it was noted that not only would there be delays in access to advanced life support by eliminating squads 21 and 16, but there would also be further delays in response for technical rescue and HAZMAT support.
In April, Ocala Post reported how it took technical rescue firefighters over 20 minutes to bring all of the necessary equipment to assist in the tornado-ravaged communities in Oak Run because they were sitting on a street corner in the city of Ocala waiting for medical emergencies.
Paul Nevels was recently set to be appointed to the top fire chief spot for MCFR. However, after the Ocala Post reviewed his qualifications, or more accurately the lack thereof, readers began voicing their concerns over his ability to do the job.
His political appointment appears to have been derailed for now.