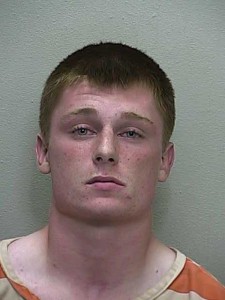 Belleview, Florida — Belleview High School Student Benjamin Austin Boles,18, has been arrested and charged with Aggravated Battery.
On October 23, 2013, Deputy Nickolas Frost responded to Munroe Regional Medical Center in reference to an incident that occurred at Belleview High School.
Upon Frost making contact with the victim and his parents he [Frost] was told that after an intense football practice the victim was involved in a disagreement with Boles, another team member.
The victim stated that during the disagreement Boles grabbed a small wooden stool and struck him [the victim] on the left side of his face with it leaving to deep one inch cuts just shy of his left eye. According to Deputy Frost, the victims tooth had also been cracked/chipped during the incident.
Reports show the victim needed 15 stitches to repair the wound, and the victims 'Orbicularis Oculi' muscle within the wound had also been torn and required several stitches to repair it. Injuries were confirmed by the victims doctor.
Deputy Frost photographed all injuries during the interview with the victim.
Frost made contact with the Belleview High School Football coaches both of whom said they did not witness the attack. However Frost indicated that the coaches said Boles did admit to hitting the victim and admitted he was wrong for doing so.
Two unnamed eye witnesses did confirm the victims statement. One of the witnesses stated he escorted Boles away from the victim to prevent further injury to the victim. Both witnesses provided Frost with written statements.
Frost then made contact with Boles who stated he felt intimidated by the victim because he is a foot taller and that's why he grabbed the stool and hit him in his face. Boles told Frost he was very sorry for his actions.
Benjamin Boles was arrested without further incident and charged With Aggravated Battery Causing Bodily Harm or Disability which is a felony.
Boles is being held on a $5,000 bond.