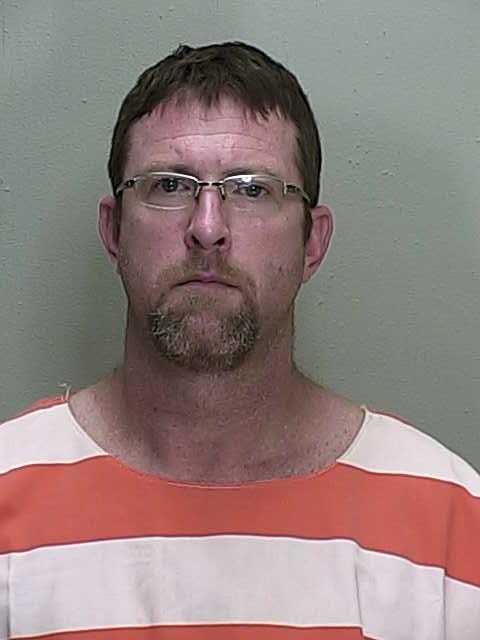 Belleview, Florida — The Marion County Sheriff's Office Tactical Investigations Unit arrested Jeremy Easley, 38, on Monday for a home invasion that occurred on December 23rd in the area of Southeast 45th Avenue, Belleview.
The 15-year-old female victim told detectives she heard someone knock at the front door, at which time she looked out the front window to see who it was. The victim stated that Easley knocked on the door and rang the doorbell several times.
When no one answered, the girl stated that Easley walked to his car, put on gloves, and grabbed a silver hammer with a black grip.
Easley then went to the back sliding glass door of the home and began striking the glass with the hammer. After the fourth try, the girl stated she heard Easley grunt really loud and hit the glass a fifth time. She told detectives that is when the glass shattered.
Once Easley entered the residence, he walked up to the girl and demanded her cell phone, which she had in her hand. The girl stated that Easley raised the hammer and said, "Give me the phone or I will hit you with the hammer."
Easley took the cell phone from the girl, depriving her of the ability to call for help.
Easley then demanded money and jewelry. When the girl told him she didn't know where it was, he went to her parents' bedroom and rummaged through their belongings.
According to reports, Easley then exited the room and said, "I have the house surrounded with friends, if you leave, I will come back for you."
Easley then fled the area.
The girl told detectives she waited a few minutes, then retrieved her house phone and called 911. She stated she was in fear for her life.
An eyewitness that knew the car was out of place took down the tag number of Easley's car.
Easley was stopped by deputies a short time later, but he denied any involvement.
A search warrant was executed on December 29, to which investigators found the clothes Easley was wearing the night of the home invasion and jewelry belonging to the victim's mom.
Easley was charged with Robbery Home Invasion with a Weapon and Obstructing Justice- Intimidate Threaten Victim.
He is being held on $110,000 bond.
Easley was living in a motel at the time of his arrest.