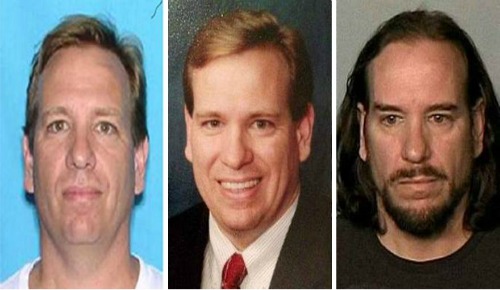 Marion County, Florida — On January 01, 2014, Marion County Sheriff's Deputy Charles McIntosh responded to 16535 N.E. Jacksonville Road, in reference to a possible marijuana grow house. When Deputy McIntosh arrived, he was briefed by Deputy Jones, who was already on the scene.
According to reports, Deputy Jones responded to the residence at the request of the owner Richard Snipes. Snipes stated he had returned from out of town and stopped by to check the property he rents to suspect Aubrey Lee Price, 47. Snipes stated the suspect also uses the name "Jason". Snipes told deputies he observed several marijuana plants growing in the garage and also observed two Pit Bull dogs on the property.
While investigating, Deputy McIntosh noticed a single-wide mobile home on the property and a detached garage. Reports also indicate there was an air-conditioning unit on the north side of the garage.
Deputy McIntosh stated there was an opening next to the air conditioning unit, which allowed him to see into the garage area, at which time Deputy McIntosh observed several tall green plants believed to be marijuana. Deputy McIntosh also observed several bright lights throughout the room, where the plants were located.
Sergeant McClain with the drug unit responded and assessed the situation, and then instructed deputies to stand by and wait for a search warrant. Deputy McIntosh secured the area until the search warrant was obtained. According to reports, once the warrant was obtained, Sergeant McClain returned with additional U.D.E.S.T. (Unified Drug Enforcement Strike Team) agents and evidence technician Rachel Peavy.
Reports show 225 marijuana plants were removed from the property in total: 140 plants were removed from the mobile home, and 85 plants were removed from the garage area.
Further investigation by Ocala Post revealed that Aubrey Lee Price was wanted by both the FBI and Georgia officials.
Price, originally from Lyons, Georgia, was indicted in July 2012 by a federal grand jury sitting in the Southern District of Georgia on a charge that he defrauded the Montgomery Bank & Trust, Ailey, Georgia, of over $21 million. He was arrested on December 31, 2013, by members of the Glynn County Sheriff's Department during a routine traffic stop.
According to the FBI and the U.S. Attorney's Office, the indictment against Price shows that an investment group controlled by Price invested approximately $10 million in the failing Montgomery Bank & Trust ("MB&T"). Price was then made a director of MB&T and put in charge of investing the bank's capital. Over an eighteen-month period, Price stole, misappropriated, and embezzled over $21 million from MB&T. To cover up his fraud, Price provided MB&T officials with bogus account statements, which falsely indicated that the bank's capital was safely held in an account at a financial services firm.
Before the December 31, 2013 arrest, Price was last seen in June 2012, boarding a ferry terminal in Key West, Florida, bound for Fort Myers, Florida. Price disappeared after writing a letter to acquaintances and regulators that he had lost a large amount of money, and that he planned to take his own life in Florida by throwing himself off of a moving ferry boat.
The FBI says they have been actively searching for Price since the date of his disappearance. Price was arrested by deputies from the Glynn County Sheriff's Department on Interstate 95 in Brunswick, Georgia, for a vehicle and traffic violation. When deputies learned of Price's true identity, he was taken into custody.
Price made his initial appearance on the federal arrest warrants on January 2, 2013, at 10:00 a.m., at the federal courthouse in Brunswick, Georgia.
In the Southern District of Georgia, Price was charged with one count of bank fraud, which carries a maximum sentence of 30 years in prison and a fine of up to $1,000,000. Price also faces additional charges in New York. U.S. Attorney Edward Tarver emphasized that an indictment is only an accusation and is not evidence of guilt. The defendant is entitled to a fair trial, during which it will be the government's burden to prove guilt beyond a reasonable doubt.
The drug house located in Marion County not only yielded a large quantity of marijuana, but also weapons and multiple fake IDs, including passports with Price's photo on them. Price was reportedly using the name of David Guillermo Ramirez on his fraudulent ID's.
Marion County, Florida drug agents plan to travel to Georgia and question Price on the grow house as well as the multiple fraudulent IDs that were found inside the home.
It is unclear at this time how Price obtained the weapons that were found inside the grow house.
Animal control responded to the location and removed the Pit Bull dogs.
This investigation is ongoing.