[The video shows in this order: The sister leaving the apartment, followed by Tyecka Evans. Them leaving in a car at approximately 12:45 a.m. The same car returns at approximately 2:35 a.m., and you see Tyecka Evans rush upstairs into her apartment. Tyecka Evans then comes out to wave her sister up, who also runs upstairs. Minutes later, they run back down.]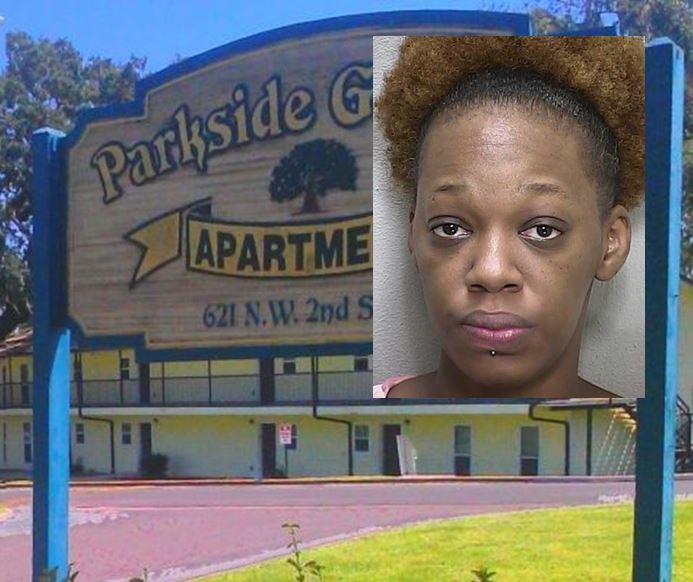 Ocala, Florida — The Ocala Police Department has completed its investigation into the death of 3-month-old Taliya Richardson at Parkside Gardens Apartments.
On Thursday, March 26, 2015, at approximately 2:39 a.m, officers responded to a call at Parkside Gardens Apartments, 621 Northwest 2nd Street, #1805, in reference to a 3-month-old baby not breathing.
One of the first officers on scene, Officer Joseph Kelly, performed CPR on the infant until the arrival of Emergency Medical Services. Taliya was transported to Munroe Regional Medical Center where she was pronounced deceased at 3:06 a.m.
In the initial report of this incident to Ocala Post, the mother of the 3-month-old, Tyecka Shanta Evans, 28, advised that she had fallen asleep on the couch while her 3-month-old was sleeping on a blanket and boppy pillow on the floor. She said that when she awoke, her baby was face down with her lower body on the boppy pillow and her face in a plastic shopping bag on the floor.
Evans told police that her infant daughter had crawled over the pillow to the plastic bag.
Upon realizing the infant wasn't breathing she ran out of her apartment and got her sister to help her, at which time 911 was called.
According to Ocala Police Department Public Information Officer Sergeant Angy Scroble, during the investigation, Detective Scott Rowe obtained video surveillance from the apartment complex which showed Tyecka, her sister Toyana Evans , and her sister's boyfriend, Quincy Green, arrive by car at the complex at 2:36 a.m. In the video, Tyecka was seen running upstairs to her apartment then coming out and waving for her sister to come up.
Additionally, after the media broke the story, many Crime Stoppers tips were received advising that Tyecka had left her children and her sister's 1-year-old alone to go out to a club.
On today's date, March 31, Detective Rowe and Detective Mary Brewton interviewed Tyecka Evans at the Ocala Police Department. During the course of that interview, Tyecka did advise that she had left the children alone at approximately 1:00 a.m to go to a club with her sister.
Detective Rowe placed Tyecka Evans under arrest for one count of Manslaughter. Her bond was set at $30,000.
Evans is a convicted felon with multiple arrests. One of her previous charges was for Contributing to the Delinquency of a Minor-Cause to become Dependent and Needy.
The Ocala Police Department would like to thank the individuals that called Crime Stoppers and reported this crime.
It is unclear on what will happen to Evans' remaining children.