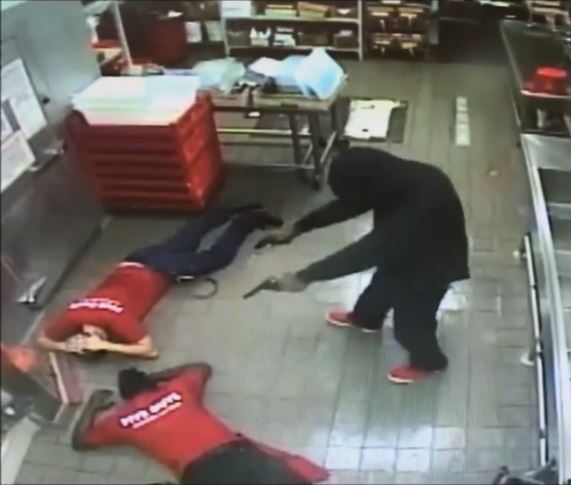 Ocala, Florida
— Five Guys Burgers, located in the Gaitway Plaza 2701 Southwest College Road, was robbed at gunpoint Wednesday night.
The robbery occurred at closing time. There were three employees on duty during the incident.
One of the employees told police that he usually locks both doors to the business, but on this night he only locked one. Another employee, who has only been on the job for three weeks, locked the other door.
The employee who locked the western front door said that he turned the lock and heard it click. He stated that he did not push on the door to make sure it was locked and that he "might not have turned the lock far enough."
Both suspects — one black male and one white male — were armed with handguns during the robbery.
The black male ordered two of the employees on the floor. He told them not to be "heroic."
According to reports, the black suspect told the employees, "If you move, I will kill you."
During the robbery, the white suspect passed his gun to the black suspect.
The manager was ordered to open the safe, while the other two employees were held at gunpoint.
The white suspect in the orange hoodie wore gloves during the robbery.
The suspect in the orange hoodie went directly to the door that was unlocked prior to entering the business. Police noted that "the suspect opened the door with no resistance."
The robbers escaped with approximately $2,000 in cash.
The manager hit the holdup alarm after the suspects exited the business.
Ocala Police Department detectives said they do not know yet if this robbery is connected to other robberies and attempted robberies that have occurred in the area.
If you have any information about this case, or know of the suspects' whereabouts, call the Ocala Police Department at 352-369-7000 or Crime Stoppers at 368-STOP, text 274637 using keyword 368-STOP, or visit www.ocalacrimestoppers.com. Anonymity is guaranteed.