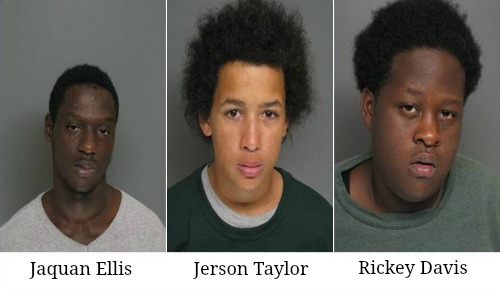 Sanford, Florida — The Sanford Police have arrested three juveniles in connection with an armed carjacking that occurred on Bradshaw Drive shortly before 11:00 p.m. on Saturday, November 30, 2013.
Rickey A. Davis, 15 , Jaquan T. Ellis,17, and Jerson M. Taylor, 12, were all three arrested and charge with multiple felonies.
The victim was sitting in his vehicle smoking a cigarette when three juveniles approached the victim's vehicle. One of the juveniles pointed a gun at the victim while the other two juveniles rummaged through two other vehicles parked at the same location. The juveniles then ordered the victim out of his vehicle. The juveniles took possession of the vehicle and then drove away.
According to reports, the Seminole County Sheriff's Office and the Lake County Police Department searched for the suspects until the vehicle was located at approximately 3:00 a.m.
The juveniles were still in possession of the vehicle and led authorities on a small chase prior to being apprehended.
The gun used to commit the carjacking was recovered from the vehicle.
All three juveniles were arrested and charged with Robbery, Carjacking, Armed Burglary of a Conveyance, and Grand Theft.
In accordance with Florida law, the names and photos of juveniles can be released once a juvenile has been charged with a felony.