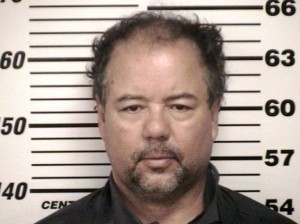 Ariel Castro, the Ohio man that kidnapped three women and held them captive for over a decade has accepted a plea deal. The agreement reached will send Castro to prison for life with no possibility of parole plus an extra 1,000 years.
"I'm fully aware and I do consent to the deal," said Castro in a Cuyahoga County court room earlier today.
Accepting this deal guarantees Castro- 52 that he will not be facing the death penalty.
Castro told the court, "I knew I was pretty much going to get the book thrown at me."
Judge Michael Russo asked Castro, "You understand by accepting this plea, you're accepting life without parole?" "You'll never leave prison alive."
Castro replied, "Yes, I do."
The trial was set to begin August 5th 2013. Had the case gone to trial, Castro would have been facing the death penalty for charges of aggravated murder of a fetus after causing a miscarriage in one of the victims he impregnated. Reports suggest, Castro repeatedly punched the victim and starved her until she miscarried.
Castro had originally plead not guilty to almost 1,000 counts of rape, kidnapping, and other crimes.
Gina Dejesus, Amanda Berry, and Michelle Knight were discovered in Castro's home back in May. He abducted the women between 2002 and 2004, when they were just 14, 16, and 20 years old. Castro also fathered a baby by Amanda Berry while he held her captive.
Attorney Kathryn T. Joseph in a statement said, "Amanda, Gina, and Michelle, are relieved by today's plea. They are satisfied by the resolution in this case and are looking forward to having these legal proceedings draw to a close in the near future. They continue to desire their privacy."
Nevertheless, "Castro could still be indicted on charges that include the death penalty if any evidence of additional crimes should emerge in the future", said prosecutors.
"I was willing to work with the FBI and tell them everything about my crimes," said Castro.
When asked by the judge if he understands what's going on, Castro replied, "I read and signed the plea deal and understood it even though my addiction to pornography and my sexual problem has taken a toll on my mind and sometimes causes problems with comprehension." In an attempt to explain his crimes Castro said, "I was a victim as a child and it just kept going." But he was interrupted by the judge telling Castro to save it for the sentencing hearing.
Judge Russo will still have to agree to the terms of the deal made by Castro and attorneys following the sentencing hearing. According to a spokesperson for the victims, the women had previously not wanted to testify at a trial. However they may now want to speak at Castro's sentencing.
The daughter of Cleveland kidnapper Ariel Castro tearfully apologized to her former best friend, whom her perverted dad captured and locked up a decade ago when the girls were both teens. "I am absolutely so, so sorry," Arlene Castro, 22, said in a message to childhood friend Gina DeJesus, one of her father's alleged victims, in an appearance on "Good Morning America" back in May of this year.
As for the home where the women were held captive, it will eventually be torn down, said prosecutors.