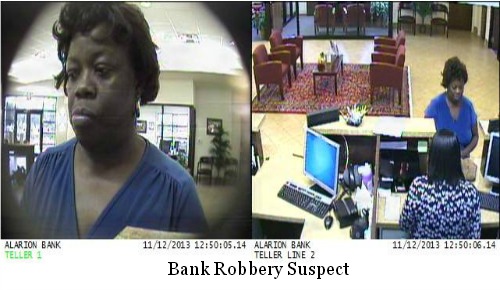 Ocala, Florida — The hunt is on for a black female who robbed a bank just before 1:00 p.m. on November 12, 2013.
It happened at the Alarion Bank located at 7605 SW State Road 200 in Ocala. Authorities say the woman got away with an undetermined amount of money.
The woman was described by witnesses as about 5'2" and is said to have very bad teeth and appears to be in her 40's to 50's. She weighs around 175 pounds and was wearing a brown wig and large gold hoop earrings. She was last seen driving a sun-faded red or maroon 1996 to 1999 4-door Honda Accord.
The Marion County Sheriff's Office has identified the bank robbery suspect utilizing various investigative techniques, said public information officer Judge Cochran. A felony warrant has been issued for Renita Mount Rayner of St. Petersburg, Florida.
Anyone with information regarding this case is urged to call Crime Stoppers of Marion County at 352-368-STOP or 352-368-7867. Tips can also be texted to 274637 using keyword 368STOP or submit a tip at www.ocalacrimestoppers.com.
[UPDATED November 13, 2013 at 4:59 p.m.]