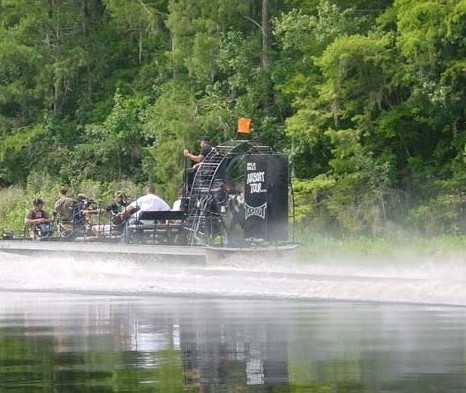 Passengers got a "wild ride" when they were thrown from an airboat during a tour, Tuesday.
According to Florida Fish and Wildlife Conservation Commission's Regional Public Information Coordinator, Greg Workman, while a tour guide was operating a tour for Wild Bill's Airboat Tours on the Withlacoochee River, the airboat had stopped to explain the area to the occupants of the vessel.
As the tour guide was talking to passengers, a recreational airboat pulled alongside to visit. A short time later, the recreational airboat left the area. As the recreational vessel headed south, the tour vessel allowed the guests to watch the airboat leave. When the recreational vessel was out of sight, the tour airboat began to head north on the river, back to its base.
According to FWC, as the tour airboat began to get on a plane, it hit the wake of the recreational vessel and caused the tour airboat to roll to the right ejecting all eleven passengers.
Four passengers were transpoted to Ocala Regional Medical Center and five passengers to The Villages Regional Hospital.
According to reports, one of the passengers had to undergo surgery for internal injuries and another had surgery for a broken collar bone.
The FWC is still investigating the incident.
Please follow and like us: