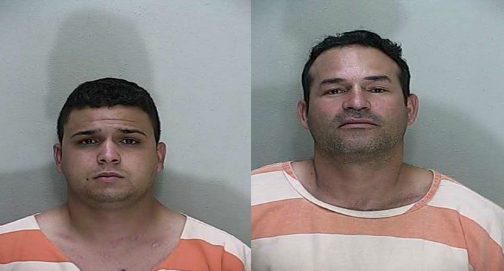 Jose Yosvani Hernandez-Trujillo, 41, and Orlis Martinez-Cruz, 21, both from Miami, remained behind bars Friday after they were arrested on May 16, and charged 42 counts each of Forgery of a Credit Card, 42 counts each Trafficking in Counterfeit Credit Cards, 8 counts each Identity Theft, and one charge of Retail Theft.
Ocala Police Department Sgt. Erica Hay said she was pumping gas into her unmarked patrol car when she looked over and saw two men standing next to two F-250 trucks and acting suspicious. She said that is when she remembered an e-mail bulletin about two Ford trucks illegally transporting fuel.
According to reports, Sgt. Hay then entered the store and asked the clerk about the amount of fuel the individuals had purchased. The clerk told Sgt. Hay that the men completed three separate transactions — $99.40, $99.46, and $99.41 — which is approximately 119.3 gallons of diesel fuel.
As Sgt. Hay returned to her vehicle, the men started to leave. Sgt. Hay activated her emergency lights and tried to stop them, but she was unsuccessful.
A B.O.L.O was immediately issued.
Detectives were able to locate one of the vehicles and arrested the driver and passenger.
Upon searching the truck, detectives found credit card reader machines, credit cards, debit cards, and various gift cards.
Hernandez-Trujillo and Martinez-Cruz refused to cooperate and requested an attorney.
Their bonds were set at $466,000 each.
If you have any information about this case, please call the Ocala Police Department at 352-369-7000, Crime Stoppers at 368-STOP,  or text 274637 using keyword 368-STOP.  Tipsters can also visit www.ocalacrimestoppers.com. Anonymity is guaranteed.