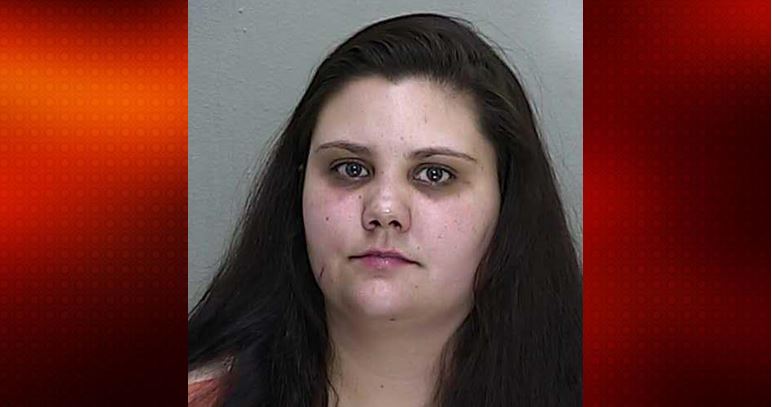 Ocala, Florida — A man got more than he bargained for when he decided it was time to end his relationship with his girlfriend of three and a half years.
Ocala police say the man broke off his relationship with the woman near the end of November.
On December 3, the man returned home from work to find that his ex-girlfriend, later identified as Melissa N. Ostrander, 22, had made entry to his home and was waiting for him.
According to reports, Ostrander's sole intention was to argue with the man about him leaving her.
The man told police that he did not want to argue or discuss the relationship with Ostrander. Instead, the man left his residence and drove to his sister's house.
While visiting with his family at his sister's house, he heard a car pull up in the driveway.
Seconds later, Ostrander barged into the house and began to yell at the man about their break-up.
Ostrander then grabbed the man by his shirt and attemted to pull him to the floor. That's when the man's sister grabbed Ostrander by her throat, and shoved her outside.
The family said it appeared that Ostrander was going to leave, but she ran toward the house and tried to regain entry.
An unidentified person then pushed Ostrander, which kept her from entering the home.
Ostrander then went back to her vehicle.
Thinking  Ostrander was leaving, the man exited the residence and began talking with someone at the rear of his vehicle.
That's when Ostrander positioned her vehicle in their direction, revved up her engine, and accelerated toward them.
The man, along with the person he was talking with, were able to jump out of the way before Ostrander slammed into the man's car.
The impact caused the man's car to propel forward and hit the residence.
Ostrander then "threw" her vehicle into reverse, accelerated, and struck another car that had arrived at the residence. She then fled the scene.
Police said that there was a juvenile sitting in the passenger seat of that vehicle, but he was not injured.
Police made contact with Ostrander at her residence a short time later.
Ostrander told police that she argued with her ex-boyfriend because they "have to raise a child together," and got upset that he had broken off the relationship.
According to reports, when Ostrander's ex-boyfriend left his residence to go to his sister's house, she left too.
Ostrander told police that she had intended to "go get gas", but the more she thought about the break-up, the more angry she became. She said she then made the decision to drive to [his] sister's house to confront him.
Ostrander was arrested and charged with Burglary with Domestic Battery, Domestic Aggravated Assault, Aggravated Assault, and Felony Criminal Mischief.
She was released on  a $11,000 bond. Her next court date is slated for January 3, 2017.
On April 29, 2014, Ostrander was arrested for Domestic Battery. Five months later, she was arrested a second time and charged with Domestic Battery and two counts of Domestic Aggravated Assault with a Deadly Weapon.