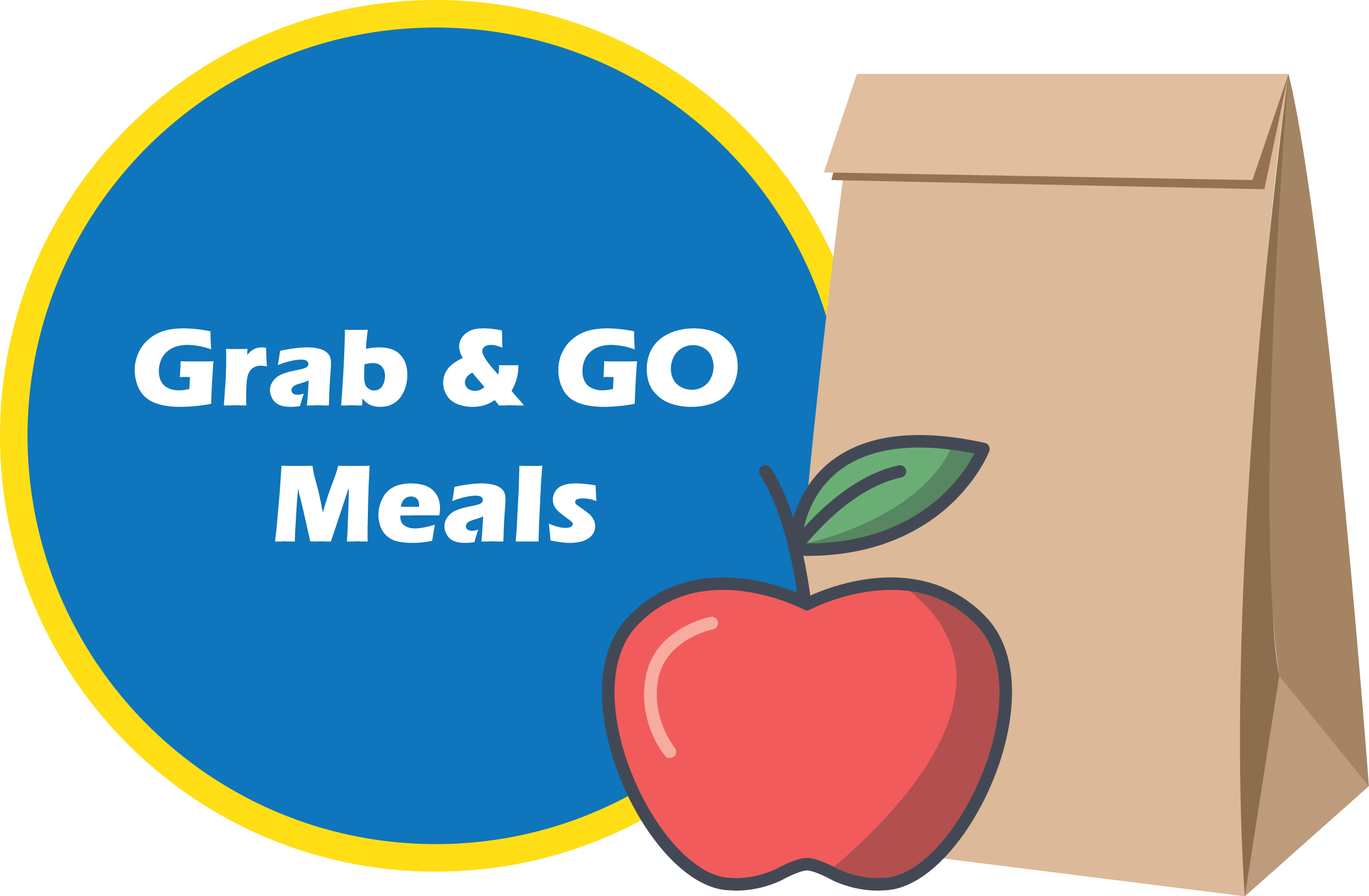 Per a directive from the Florida Department of Education, all public schools in Florida will be closed through April 15.
This is primarily due to revised CDC guidelines limiting groups of people in any single location to 10 or less.
In the interim, starting Tuesday, March 24, Marion County Public Schools will provide its 43,000 students with a "Grab & Go" meal service including meals and a snack for each day schools are closed. While some sites will offer curbside service, others will be served with mobile delivery via school bus or Food Service vans.
Below is a detailed listing of service and delivery sites, along with approximate delivery times.
Having trouble viewing this on a mobile device? Click here to download the meal pick up locations.
| | | | |
| --- | --- | --- | --- |
| The School Board of Marion County Florida COVID 19 Meal Service  | | | |
| Prep Location | Meal Service Location | | Serving Times |
| 1.    Thelma Parker Center | | | |
| | Ed Croskey | | 09:30am – 10:00am |
| | Parkside | | 10:15am – 10:45am |
| | Boys/Girls (Ocala) | | 11:00am – 11:30am |
| | New Zion Missionary Baptist | | 11:45am – 12:15pm |
| | | | |
| 2. Dr. N.H. Jones Elem | Dr. N H Jones (curbside) | | 10:00am -11:00am |
| | Shady Hollow | | 09:30am – 10:00am |
| | Laurel Park Apartments | | 10:15am – 10:45am |
| | | | |
| 3. Vanguard High | Vanguard (curbside) | | 10:00am – 11:00am |
| | Deer Run | | 09:30am -10:00am |
| | Pavillion Oaks | | 10:15am – 10:45am |
| | | | |
| 4. Oakcrest Elem | Oakcrest (curbside) | | 10:00am – 11:00am |
| Bus #1 | | NE 36th Ave & NE 42nd Pl | 09:30am – 09:45am |
| | Sterling Pointe Apt | 4885 NE 35th St | 09:55am – 10:10am |
| | Lindale MHP | 5323 NE 35th St | 10:20am – 10:35am |
| | | NE 29th St & NE 52nd Ct | 10:45am – 11:00am |
| | Berkeley Points Apt | 2835 NE 7th St | 11:10am – 11:25am |
| | | | |
| Bus #2 | | NW 42nd St & NW 19th Ct | 09:30am – 09:45am |
| | | NW 42nd St & NW 26th Ave | 09:55am – 10:10am |
| | Oaktree Village | 4039 NW Blitchton Rd | 10:30am – 10:45am |
| | | | |
| Bus #3 | | SE 12th St & SE 30th Ave | 09:30am – 09:45am |
| | Whispering Sands Apt | NE 52nd Ave & NE 30th St | 09:55am – 10:10am |
| | Greenfield Apt | SE 55th Ave & SE  29th Pl | 10:20am – 10:35am |
| | | Banyan Rd & Almond Rd | 10:40am – 10:55am |
| | | | |
| | | | |
| 5. Reddick-Collier Elem | Reddick (curbside) | | 10:00am – 11:00am |
| | Mt. Zion UMC | | 09:30am – 10:00am |
| | | | |
| 6. Sparr Elem | Sparr (curbside) | | 10:00am  – 11:00am |
| | | | |
| 7. Wyomina Park Elem | Wyomina (curbside) | | 10:00am –  11:00am |
| | Big Lot Parking Lot | | 09:30am  – 10:00am |
| | | | |
| 8. Howard Middle (prep only) | | | |
| | Lamb Park | | 09:30am – 10:00am |
| | Lillian Bryant | | 10:15am -10:45am |
| | Blitchton Station Apartments | | 11:00am -11:30am |
| | | | |
| 9. Ward-Highlands Elem | Ward Highlands (curbside) | | 10:00am – 11:00am |
| | St. Paul UMC (van) | | 09:30am -10:00am |
| | | | |
| 10. Greenway Elem | Greenway (Curbside) | | 10:00am – 11:00am |
| | Shores Baptist | | 09:30am – 10:00am |
| | Boys/Girls Club (Shores) | | 10:15am – 10:45am |
| | | | |
| 11. Lake Weir High | Lake Weir High (curbside) | | 10:00am – 11:00am |
| | | | |
| 12. Legacy Elem | Legacy (curbside) | | 10:00am – 11:00am |
| | | | |
| 13. Belleview Elem | Belleview (curbside) | | 10:00am – 11:00am |
| | | | |
| 14. Lake Weir Middle | Lake Weir Middle (curbside) | | 10:00am – 11:00am |
| Bus #1 | Sandy Acres | 16868 SE 248th Terrace | 10:00am – 10:15am |
| | | SE 182nd Avenue Rd & SE 202nd Terrace | 10:30am – 10:45am |
| | | | |
| Bus #2 | Ocklawaha Community Park | 12264 SE 141st Ave Rd., | 09:30am – 09:45am |
| | Clearwater Baptist Church | 14021 SE 117th Pl | 09:55am – 10:10am |
| | | Spring Ln Way & SE 79th Ave Rd | 10:25am – 10:40am |
| | Ralph Russell Park | 1690 Pine Rd | 10:50am – 11:05am |
| | | Dogwood Rd & Dogwood Trail | 11:20am – 11:25am |
| | | | |
| Bus #3 | | Locust Pass Pl & Locust Rd | 09:30am – 09:45am |
| | | Oak Track Pass & Oak Track Dr | 10:00am – 10:15am |
| | | Oak Rd & Oak Ct | 10:25am – 10:40am |
| | | Pecan Rd & Fir Dr Ln | 10:55am – 11:10am |
| | | 64th Ave Rd & Pecan Pass Terrace | 11:00am – 11:35am |
| | | Pecan Rd & SE 64th Ave Rd | 11:40am – 11:55am |
| | | | |
| Bus #4 | Summerfield | SE 63rd Ave & SE 143rd Pl | 09:30am – 09:45am |
| | Belleview Heights | SE 51st Ave & SE 135th Pl | 09:55am – 10:10am |
| | Belleview Heights | SE 37th Terrace & SE 138th St | 10:20am – 10:35am |
| | Compton MHP | SE 52nd Ct & SE 102nd Pl | 10:50am – 11:05am |
| | Lake Lillian | SE Robinson Road | 11:10am – 11:25am |
| | | | |
| 15. Saddlewood Elem | Saddlewood (curbside) | | 10:00 – 11:00 |
| Bus #1 | Ocala Ridge | NW 55th Ave & NW 2nd St | 09:30am – 09:45am |
| | Ocala Ridge | NW 6th Pl & NW 55th Ave | 10:00am – 10:15am |
| | Ocala Ridge | NW 6th Pl & NW 59th Ave | 10:20am – 10:35am |
| | Golden Hills MHP | 7865 West Hwy 40 | 10:45am – 11:00am |
| | SW 75th Ave & SW 15th Place | SW 75th Ave & SW 15th Pl | 11:15am – 11:30am |
| | Westwood MHP | SW 38th Ave & SW 7th St | 11:45am – 12:00pm |
| | White Oaks MHP | SW 38th Ave & SW 30th St | 12:15pm – 12:30pm |
| | | | |
| 16. College Park Elem | College Park (curbside) | | 10:00am – 11:00am |
| | Promoade | | 09:30am -10:00am |
| | Green Gables | | 10:15am -10:45am |
| | | | |
| 17. East Marion Elem | East Marion (curbside) | | 10:00am – 11:00am |
| Bus #1 | Salt Springs Recreation Center | Hwy 19 & NE 139th Place | 09:30am – 09:45am |
| | Hog Valley | NE 160th Avenue Rd & NE 232nd Ln | 10:15am – 10:30am |
| | | NE 160th Avenue Rd & NE 236th St | 10:35am – 10:50am |
| | | NE 145th Ln & NE 110th Avenue Rd | 11:00am – 11:15am |
| | | NE 112th Ct & NE 145th Ln | 11:20am – 11:35am |
| | Cougar Community Park | NE 113th Terr & NE 147th St | 11:50am – 12:05pm |
| | | | |
| Bus #2 | Lake Owen Area | SE 170th Ave & SE 6th St | 09:30am – 09:45am |
| | | SE 172nd Ave & SE 169th Terrace Rd | 09:50am – 10:05am |
| | | SE 176th Ave & SE 19th Pl | 10:10am – 10:25am |
| | Pack A Sack Store | SE 183rd Avenue Rd & East Hwy 40 | 10:35am – 10:50am |
| | | | |
| 18. Horizon Academy | Horizon Academy (curbside) | | 10:00am – 11:00am |
| Bus #1 | Marion Oaks Community Center | 294 Marion Marion Oaks Lane | 09:30am – 09:45am |
| | Florida Highlands (stop#1) | SW 80th Ave and SW 77 Ave Rd | 10:00am – 10:15am |
| | Florida Highlands (stop#2) | SW 85th Ave and SW 155 St | 10:25am – 10:40am |
| | Florida Highlands (stop#3) | SW 155th St and SW 110 Ave | 10:50am – 11:05am |
| | Florida Highlands (stop#4) | SW 150th St and 119 Court | 11:15am – 11:30am |
| | | | |
| 19. Liberty Middle | Liberty (curbside) | | 10:00am – 11:00am |
| | | | |
| 20. Anthony Elem (prep only) | | | |
| Bus #1 | Bread of Life | 2000-2270 NE 78th St | 09:30am – 09:45am |
| | Hilltop Manor Apartments | 7334 NE Jacksonville Rd | 09:50am – 10:05am |
| | Ocala Heights | NW 65th St & NW 6th Ave | 10:15am – 10:30am |
| | Ocala Heights | NW 67th St & NW 14th Ave | 10:35am – 10:50am |
| | Concordia Park | NW 85th  St &  NW 14th Ave | 11:00am – 11:15am |
| | | | |
| Bus #2 | Ocala Park Estates | NW 50th Ave & NW 57th Ln | 09:30am – 09:45am |
| | | NW 62nd Pl & NW 52nd Ave | 09:50am – 10:05am |
| | | NW 60th St & NW 59th Ct | 10:10am – 10:25am |
| | | NW 62nd Ave & NW 50th Pl | 10:35am – 10:50am |
| | | NW 61st Ave & NW 65th Pl | 11:05am – 11:20am |
| | | NW 66th Ct & NW 65th Pl | 11:25am – 11:40am |
| | | | |
| Bus #3 | Citra Community Park | 2351 East Hwy 318 | 09:30am – 09:45am |
| | Lakes and Meadows | NE 167th Pl & NE 30th Ct | 09:55am – 10:10am |
| | Lakes and Meadows | NE 162nd Ln & NE 30th Ct | 10:15am – 10:30am |
| | Lakes and Meadows | NE 160th St & NE 30th Ct | 10:40am – 10:55am |
| | | NE 65th Ave & NE 137th Pl | 11:15am – 11:30am |
| | | NW 27th Ave & NW 145 St | 11:55am  – 12:10am |
| | | | |
| 21. Romeo (prep only) | | | |
| Bus #1 | Rainbow Lakes Estates (stop #1) | SW Rainbow Lakes Blvd & SW Marlin Rd | 09:30am – 09:45am |
| | Rainbow Lakes Estates (stop #2) | SW Rainbow Lakes Blvd & Oleander Pl | 09:50am – 10:05am |
| | Rainbow Lakes Estates (stop #3) | SW Lobelia Ct & SW Tiger Lake Blvd | 10:10am – 10:25am |
| | Rainbow Lakes Estates (stop #4) | Beach Blvd & SW Deepwater Ct | 10:30am – 10:45am |
| | Sea Cliff Community Park (stop #5) | 23050 SW Sea Cliff Ave | 11:00am – 11:15am |
| | Rainbow Lakes Estates (stop #6) | SW 59th Ln & SW 204th Ave | 11:30am – 11:45am |
| | | | |
| Bus #2 | Lake Tropicana (stop #1) | SW 189th Ave & SW 31st St | 9:30am – 09:45am |
| | Lake Tropicana (stop #2) | SW 181st Ct & SW 43rd Pl | 09:50am – 10:05am |
| | | SW 166th Court Rd & SW 47th Place Rd | 10:15am – 10:30am |
| | | SW 27 St & SW 167th Ave | 10:40am – 10:55am |
| | | SW 57 St & SW 167th Ave | 11:05am – 11:20am |
| | | SW 60th Pl & SW 165th Ct | 11:25am – 11:40am |
| | | SW 50th Street Rd & SW 160th Ct | 11:45am  – 12:00pm |
| | | | |
| Bus #3 | | SW 148th Court and SW 35th Place | 09:30am – 09:45am |
| | | SW 149th Ct & SW 29 St | 09:55am – 10:10am |
| | |  20th Pl & SW 146th Ct | 10:20am – 10:35am |
| | | SW 20th Pl & SW 142nd Court Rd | 10:45am – 11:00am |
| | | SW 133rd Ave Rd & SW 14th Street Rd | 11:10am – 11:25am |
| | | SW 134th Ct & SW 4th Pl | 11:35am – 11:50am |
| | | | |
| Bus #4 | | SW 129th Terrace Rd & SW 61st Place Rd | 09:30am – 09:45am |
| | | SW 129th Terrace Rd & SW 66th St | 09:50am – 10:05am |
| | | SW 129th Terrace Rd & SW 85th Pl | 10:15am – 10:30am |
| | | SW 129th Terrace Rd & SW 100th Ln | 10:40am – 10:55am |
| | | SW 136th Court Rd & SW 106th St | 11:05am – 11:20am |
| | | | |
| Bus #5 | Ocala Estates (stop #1) | NW 113th Ct & NW 8th Pl | 09:30am – 10:00am |
| | Ocala Estates (stop #2) | NW 112th Ave & NW 12th Ln | 10:05am – 10:35am |
| | Ocala Estates (stop #3) | NW 111th Ct & NW 15th Ln | 10:45am – 11:15am |
| | Ocala Estates (stop #4) | NW 21 St & NW 112th Ct | 11:25am – 11:55am |
| | Ocala Estates (stop #5) | NW 21 St & NW 116th Terrace | 12:00pm  – 12:30pm |
| | Ocala Estates (stop #6) | NW 120th Ave & NW 14th St | 12:35pm – 01:05pm |
| | Ocala Estates (stop #7) | NW 120th Ave & NW 7th Pl | 01:10pm – 01:40pm |
| | | | |
| Bus #6 | Stop #1 | Wood Ridge Dr & Hialeah Dr | 09:30am – 10:00am |
| | | | |
| 22. Dunnellon Middle | Dunnellon Middle (curbside) | | 10:00am – 11:00am |
| | Boys and Girls Club (Dunnellon) | | 09:30am  – 10:00am |